Finding Affordable
Wood Working Tools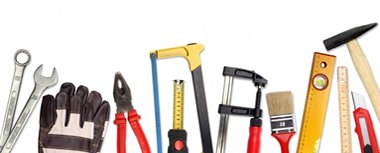 The right wood working tools make any job easier. From a sharp saw to a fully charged cordless drill, these tools will in fact determine how your project ultimately turns out.
Many experienced woodworkers have thousands of pounds of tools in their shop. Those that are just starting out may have to beg and borrow to add the necessary wood working tools to their collection. However, there are a few places that are off the beaten path where you can locate some really good priced, quality tools.
The Local Hardware shop
Your local hardware store will have some of the more traditional tools that you need, such as hammers, mallets, squares, and clamps. You will find sales throughout the year, especially close to the holidays.
They will also have the larger tools that can quickly drain your bank accounts, like table saws and jig saws. There isn't a woodworker anywhere that wouldn't love a shop full of new, shiny tools. But common sense must prevail for many and used tools can work just as well as new.
Garage sales, Auction
Auctions, garage sales, and pawn shops are a great place to find wood working tools at minimal prices. Always take the time to examine the tools carefully.Plug in the electric ones, make sure all the parts work as they are supposed to, and be sure the safety pieces are in place and functional.
You don't want to lose a finger or two because you were trying to save a buck! There's nothing better than bargaining for a great deal on a terrific piece of wood working equipment.
Using the Internet
The internet has really opened up a huge opportunity for bargain Power & Hand Tools , as well. You'll find discount stores that buy in bulk and can pass the savings on to their customers, speciality stores that offer those hard to find tools, and tons of different online auction sites. Here's a link to Tool King who have surplus stock of many excellent brands to sell at reduced prices
ToolKing.com Clearance
All pages have reduced items
Of course, a deal is only a deal if you don't have to pay outrageous prices for shipping. Some websites will offer free shipping when your order reaches a certain amount or for repeat customers.
Borrowing the tools
If you know another wood worker, you may borrow the tools you need, understanding that if the tool is broken or damaged, you're going to owe your friend a replacement. It's often difficult to lend out your tools, but for those who are just starting out, it can mean completing a project or having it sit until they can afford the tools they need.
You should also check out some of the wood working forums on the internet. Many have local boards that will allow you to find someone offering the use of their tools or entire shops for sale.
Occasionally I come across other websites of good repute if you would like to visit and here is a link to one of those, for insights and overviews on the basic ideal hand tools every homeowner and renter should have on hand to tackle repairs, upkeep and maintenance, check out the FREE tips and ideas here!
Please also see the additional articles below on related woodworking equipment and tools, you may be surprised what you can learn
Clamp it With Wood Clamps

You will need Sharpening Stones

Router Tables – Which Is Right for You?

See The 12 Essential Woodworking Hand Tools

Go to Hand Planes

Find Out More Info On Basic Wood Carving Tools

Best Wood Carving Knives

Wood branding iron to Sign your Work

Wood Burning Tools for the Artist

A Rasp to Trim your Curves

Japanese knives for the Chef

Lie Nielson Quality Tools

Return to Woodworking from Wood Working Tools