Lie Nielson
Quality Hand Tools
Lie Nielson are the new kids on the block following in the footsteps of Stanley Tools, who have been the benchmark for woodworking tools for many years.
In production since 1981 to revive the traditional wooworking tool ethos once again in the USA. In a matter of 30 yrs they have developed across the continents with many local distributors of their various products.
What I like about their range of 50 different hand planes in particular is their thicker blades . This extra 'ooomph' enables me to set the blade quicker, gives me a better feeling of sturdiness( although this could be imaginary ) and is easier to sharpen, less flexing enables a finer edge, especially as I don't use a sharpening guide. I'm too now to change habits of a lifetime.
A Quality Range
Lie Nielson quality is evident throughout the range of tools varying fom planes to chisels to saws. They are rather pricey but for the professional carpenter, they will take pride of place in their workshops.
I wouldn't consider taking these tools on site as they are much too precious. I'm not saying they aren't robust enough, it's just that I would hate them being misplaced or stolen.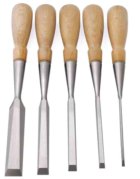 CHISELS... The range of Bevel Edge chisels are up to 1" and I would have liked a 1¼ for door hinges in particular. but then again, I'm back on site work, hinges for cabinet making are smaller. A point to note here is that these chisels may require a secondary 35 degree honing, depending on the type of work you are doing. Their handles are intriguing as they are replaceable Hornbeam or Ironwood which is exceptionally hard, so hard in fact it is used to stoke up fires for the night !
SAWS...For many years I used a Distin hand saw, resharpening and setting when necessary. When hard point saws were invented and mass produced, it was time effective for me to buy these saws almost weekly, such was the amount of sawing I did. Consequently it has now been perhaps 20 yrs since I last used a traditional Western saw.
Lie Nielson has replicated the traditional saw, giving it that great feeling I remembered. These are lifetime saws and if you are not too confident about sharpening, a saw doctor or the company will do it for you.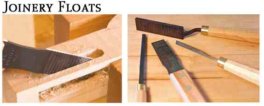 FLOATS...
These joinery floats are ideal for morticing or tenon paring, being sharper than rasps and more controlable than chisels, but still leaving a fine finish.
I've not had them in my toolbox simply because I made do with chisels but they would have been a great addition.
They are available in various shapes and sizes and also in 'push' and 'pull' strokes.
Made from R-7 tool steel, hardened and tempered for maintaining sharpness like their quality saws.
More Tools at Woodworking Tools

From Lie Nielson Return to Woodworking Home Page