Discount Woodworking Tools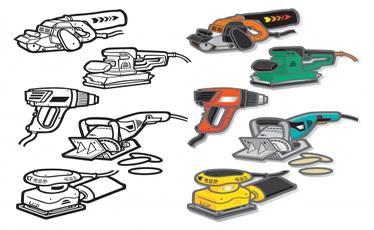 Daily deals of discount woodworking tools are here every day by clicking on Tool King's Daily Deal!
to see what's going cheap, cheap, cheap today.
New Deals through February
Tool King are having a warehouse sale with items up to 90 percent off. Visit their store by clicking on their 'logo', which is to the right and a bit lower.
A considerable reduction of $80.29 is the Bosch 4100DG-09 10-Inch Worksite Table Saw with Gravity-Rise Stand
today priced at $586.29
A $400.00 bandsaw discount is the JET 414459 HVBS-7MW, 7 in. x 12 in. 3/4 HP 1-Phase Horizontal/Vertical Band Saw
now priced at $1099.00
Summer special from DeWalt is lower pricing ( whilst stocks last ) on various Drills including a New 20V DEWALT DCD795D2 20V MAX XR Cordless Lithium-Ion 1/2-in Compact Hammer Drill Kit at $239.00. Offer extended through August. Click this link to Summer Giveaway! Get a FREE DCB 203 Battery instantly in cart, when you buy a new DCD795D2 or DCK286D2 cordless hammer drill kit, @cpopowertools.com
to view what is on offer.
CPOJET have reduced Jet Lathe prices for a limited period this Autumn
Looking for a Scrollsaw ? The Factory Reconditioned Ryobi ZRSC164VS 1.2 Amp 16-in Variable Speed Scroll Saw
has been reduced by $5.00 and the Rockwell RK7315 16-Inch Saw
reduced in price by $17.49
Discount woodworking tools are one of the most searched pages on this website because I suspect of the economies throughout the World. We are all searching for ways to save a little to help stretch out our income.

In my time as a carpenter which was until 2010, when because of my age I began building this site, I was fortunate that income wasn't much of a problem. Prices were still good for jobs I estimated and competition for that work wasn't as severe as it is now. I could afford to buy new tools when needed. Not anymore.

We all now have to look for bargains..Me to find them and you to buy them. So what is the difference between discount woodworking tools or used woodworking tools and new. Quite simply nothing much but savings we are all trying to make.
Finding Discounts
I always begin my search when looking for discount woodworking tools at Stanley. They were the first tools I used 50 odd years ago and I've used them ever since. Why? Because they are solid without being overweight, they are accurate and although they started off being expensive their prices now compete with inferior brands.

Here is a link where you will find $10 discounts on Stanley tools, FREE shipping on orders of $50 or more and other Bostitch savings at Bostitch - Flat Rate shipping $6.99 Order by 5PM ET Mon-Fri, ships Today! @ CPOBostitch.com!
There is a link lower down this page to Tool King who are a major distributor of Stanley and you will find some good reductions there too, prices in $'s and £'s.

Reconditioned & Returned Tools
I wouldn't allow the word Reconditioned to put you off buying because many of these are simply just returned not wanted.
The disadvantages of buying discounted woodworking tools or reconditioned tools are:
They may not be dispatched in their original boxes
They might have 1 or 2 blemishes or scrapes, which you'd get anyway within a couple of weeks working the tool
But the advantages are:
Considerably cheaper than new
Fully tested and often have a longer Warranty
They won't be old, battered and bruised as you might expect
Click on the following link to
Find the best selection and prices for over 25 tool outlet sites at cpooutlets.com/shop
You will notice that many of these links take you to CPO Outlet stores. CPO are the largest suppliers of Reconditioned and discount woodworking tools and used woodworking power tools and are now associated with many leading distributors of top brands such as Bosch, DeWalt, Makita, Bostitch, Ryobi, Delta.

If you are a fan of Black&Decker tools ( who are now part of the Bosch family ) the following link will take you to their website. Once there you will find New or Reconditioned or Percentage savings on various tools and Get best prices on Black & Decker cordless power tools at cpobd.com! Free shipping
And here is a link to my favourite power tool brand where you may find the new or reconditioned tool you are searching for and Save up to 65% with Bosch factory reconditioned tools! 30-day money back guarantee and manufacturer's warranty!
The second distributor is Tool King, who have many discounted prices in their catalog of discount woodworking tools which you can view by following this link to Save up to 60% on Reconditioned Tools
Or you can visit a clearance sale where tools have reached the end of their production line. Spare parts if needed will still be available. Again it's via Tool King and this link to a Clearance Sale Blowout, Up To 40% Off
Should you need advice of which to buy, you could always use the Contact Coach button on the Navigation Bar to the left of this page.
From the U.K. An 8" bladeMAKITA LF1000 260mm Flip Over Saw 110v
at £668.34 which has been reduced by £29.65.
One of my favoured tool maker's is Makita who are getting into the spirit of 2013 by offering Value Tool Kits with Free Tools

From Discount Woodworking Tools to Woodworking