Woodworking Saws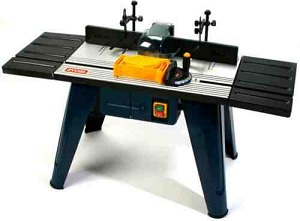 If you arrived here at woodworking saws from woodworking power tools and wish to go back, click on the underlined words.
There are several different types and sizes of woodworking saws. Each one has specific applications in a woodworking shop.
Below, you will find some basic information about the different types of wood cutting saws and the types of applications that they are best suited for. Click on any of the 4 headlines to browse the choices available from Amazon and the highlighted text for products from cost conscious distributors.
More links to Woodworking Saws towards the bottom of this page.
Types of Woodworking Saws
Table Saws: The first type of woodworking saws are the table saws. I have concentrated on portable versions here which can be used as benchtop saws or transported with stands or trolleys for site work. A table saw is generally used to cut larger pieces of wood into more workable sizes although quite intricate sawing is not unusual. The blade comes up through the surface of the table. You can vary both the height of the blade and the speed of the saw. I have positioned them in the order in which I would buy them.

The Sawstop CNS175-SFA30 1-3/4 HP Contractor Saw with 30-Inch Aluminum Extrusion Fence and Rail Kit (pictured above) is considered the best of breed at around 338lbs and $1.549.00. Reduced by $200 19/2/2013. I would leave this superb saw in my workshop as I don't consider it to be easily portable.

On the smaller building sites we are now expected to provide all the machinery required to get the job done. Also we haven't the time to journey to the compound each time we need to 'rip' some lumber.

Which leads me to the

Bosch 4100DG-09 10 Worksite Table Saw with Digital Rip Fence and Gravity-Rise Wheeled Stand with a 29" x 21½ table. The wheeled, easily erected stand is included in the price from CPO at $827.27.


---

A good substitute model is the Bosch GTS 10 254mm Portable Table Saw - 220 Volt at $654.99 £423.08.


---

A little lower in price again but a highly regarded woodworking saw is the Bosch GTS1031 10-in Portable Jobsite Table Saw from Tyler Tool at $ 399.99.

---

You can make a good saving of with this Factory Reconditioned Bosch 4100-RT 10-in Worksite Table Saw. It's either been returned because it wasn't wanted or may not have the original packaging. Price of $399.99


---

Now to my second choice of table saw which is the DEWALT DW744X 10-in Portable Table Saw with Folding Stand priced at $ 519.99 from CPO DeWalt. DeWalt have made great strides over the last 10 years in tool excellence and I have no qualms about buying their products.
Especially as this item has been reduced by $60.00 over the last few months.


Their second model is the Dewalt DW744XRS 10" Compact Job Site Table Saw with Site Pro Modular Guarding System but is cometetrively priced at at $599.00 and is a rival to the Bosch 4100DG but far cheaper.


---

Miter Saws: A miter saw is used to make quick cuts across the grain of a piece of wood. The blade is attached to an arm that can be lowered onto the wood. A compound miter saw allows the blade to be tilted sideways. both ways to 45 degrees This type of saw allows you to make both horizontal and vertical angled cuts, as well. It is often called a chop saw.

Before we had motorised miter saws we all used to use the hand version which by comparison were quite difficult to use however they remain in production if you want to keep expenditure down and the Stanley Hand Tools 20-800 Clamping Miter Box With Saw reduced by $2 (4/12/2012) from Tool King at $50.87 £32.86 is quality with it's pegged supports which are essential when cutting awkward profiles.

The Bosch Bosch GCM12SD 120-Volt 12-Inch DB Glide Miter Saw is my favourite of the motorised woodworking saws due to it's advancement of technology. It cuts 14" across the timber grain with it's sliding movement, which is more plank width than I normally ever cut. .It also cuts 6 ½" high which is handy for corner joint miters.. Cost is $695.00 and considerably cheaper at Amazon than other distributors.

This Bosch 3912 12-in Compound Miter Saw is a fixed arm which cuts to a height of 4" and width of 8" which is all you may need and is priced at $369.99. Until the 25/12/2012 there is a further deduction of $25. It cuts angles both ways to 52 degrees and bevels of 45 degrees to the left.

---

Circular Saws: A circular saw is used to make clean, straight, fine saw cuts. It can be attached to a benchtop or handheld. This is a good choice for shallow cuts and it's one of the first types of woodworking saws that most craftsmen invest in. You will be surprised at how much you can do with a circular saw. I don't have a particular preference of manufacturer of these woodworking saws. I have used many models over the years and didn't find a bad one, although there is a little rattle & roll with the cheaper makes.

We'll get the blades turning with my favourite manufacturer the Bosch GKS 65 190mm Circular Saw 220 Volt Sorry, out of stock 04/12/2012. but if you don't mind a reconditioned Factory Reconditioned Bosch CS10-RT 7-1/4-in Circular Saw then this one at $89.99 is best priced at CPOBosch It can be bought new for $129.99.Both of these have been reduced in price by $20.00 and $10 respectively. 11/11/2102

On an equal footing, quality and performance wise are DeWalt who have 2 lightweight models the DEWALT DW364K 7-1/4-in Circular Saw Kit with Rear Pivot Depth & Electric Brake $ 169.99 from Tyler Tool or the less expensive expensive DEWALT DW368K 7-1/4-in Lightweight Circular Saw Kit priced at $139.99. Reduced by $10 19/2/2012

Moving on to Makita who have 2 models which I'll start with the least expensive, which is the Makita 5740NB 7-1/4-inch Circular Saw with Mforce Blade which isn't too hard on the ears at 84db and reduced price by $9 at $114.87 or £71.30 at Tool King.

going up in price to the Makita 5007MG 7-1/4-in Magnesium Circular Saw at $149.99.

---

Jigsaws: A jig saw is used for straight and curved cuts in a piece of stock. It is considerably more "artistic" than other saws. Most people relate the cuts this saw makes to that of a jigsaw puzzle. This saw does take a bit of practice to operate it effectively, but it can provide the beautiful cuts that many projects require.I wouldn't recommend anything but Bosch (all models) to own. They have served me admirably over many years. Bosch JS470E 7.0 Amp Top-Handle Jig Saw available at $149.99.
Which Is Right for You?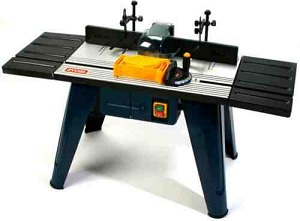 Because these woodworking saws have so many different applications, you will eventually need each of these saws in your shop. Some are rather expensive, especially those designed for larger projects.
Some will also take up quite a bit of floor or bench space, so that will have to be a consideration, as well.
Many companies offer refurbished saws, which can save you quite a bit of money. Most of the refurbished saws have passed the same type of testing as new saws and most are offered with a warranty.
If you know someone who has these saws in their shop, you might speak with them to see if you can spend a bit of time getting used to the various models.
This will give you a better understanding of what type of woodworking saws you will want in your shop and for your projects.,
On the other hand you may have owned a saw or power tool and would like to write a story about it, good or bad, your choice.
You can do so on the Invitation page below.
Please also see additional information below on the following saws which may prove beneficial:


Fretsaw - Used For Intricate Cutting Work

Keyhole saw for holes and curves

Discover Japanese Saws

Delta table Saws a Good Investment

Best Portable Table Saw

Jet Bandsaw

Return to Woodworking from Woodworking Saws
To enhance your surfing experience. WoodworkingSiteOnline.com Woodworking plans, projects, books, original articles, current news, woodworking links, and more for all woodworkers.
Have A Great Story About This Topic And Want The World To Know
Do you have a great story about this? Share it here on your own page. I'll remove your name if it's too embarrassing
What Other Visitors Have Written
Click below to see contributions from other visitors to this page...

Know Your Tool Before You Start

This story about a power drill happened 10 years ago, when a mate of mine decided to build his own house. Myself and others, mostly tradesmen went along …
This Butcher Shouldn't Be Grinding

I had a job paving a yard about 30 years ago and my father in law Tom, retired butcher but only aged about 50, came along to help. As in most paving jobs …
More Story Topics and Contributions