Delta Table Saw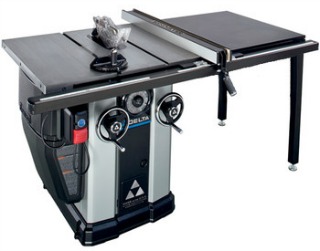 Delta table saws, in fact Delta machinery in general have been an asset to be aquired.
Their popularity, made by the quality of their products and sales figures have meant that buyers for their brand have looked upon them as a solid investment.
In 1945 bought by Rockler.
In 1981 Rockler Power Tool Group bought by Pentair.
In 2005 Pentair Tool Group bought by Black and Decker, which became Stanley Black and Decker in 2010.
In 2011 Chang Type bought the Delta Brand
These reputable and respected companies must have known an excellent brand when they saw one.
Variations on a Theme
There are 4 versions of the table saw all with slight differences but what they all have are :
The Biesmeyer fence system which doesn't deviate when timber is fed through the saw, giving true straight cuts, time after time.
Cast iron boxed body ensuring the stability to reduce vibration to a minimum
31" table depth
10" saw blade
Fine tuning of bevel cuts to minimum tolerance
Wheel cranks which control the saw blade height and angle
Wider than normal blade opening which makes blade changing, riving kife adjustment much easier
Tool free anti-kickback pawls and saw guard
Large and solid ON/OFF switch
Sealed sawdust collection compartment
I have only displayed 1 delta table saw because at a glance they all look the same
The Delta 36-L336 3 HP 10-in Single Phase Left Tilt Unisaw with 36-in Biesemeyer Fence System
has the power of an American Marathon Motor . It does however have the smallest fence.Priced at $3249.00
Delta 36-L352 UniSaw
is priced at $3259.99 and as you will note has a longer fence.
With 5Hp and the 52" fence is the Delta 36-L552 5 HP Unisaw, 52-Inch Fence
and is priced at $3506.68.
To the final variation of the one above which is the 3 phase Delta 36-L552LVC 5 HP 10-in Three Phase Left Tilt Unisaw with Biesemeyer Fence System with LVC
which is powered this time with the incredible power of a Baldor motor for efficient production sawing.Priced at $3,999.99
By clicking on the links above you will find all the technical details you require for the 2 available delta table saws and buy with confidence from the Delta store.


From Delta Table Saw to Woodworking Saws

All site pages at Woodworking


Occasionally I come across an alternative website about the same topic page and you may learn more at Table Saw Guide which has Table saw reviews, accessories, tips and techniques. They offer step by step how-to articles on building jigs and other useful accessories for your table saw as well as table saw and woodworking tool reviews.