Cabinet Making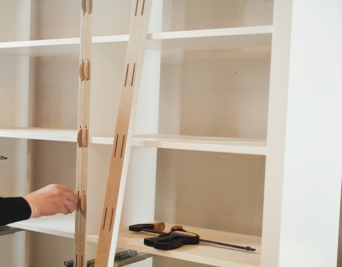 Knowing cabinet making techniques can be invaluable. Many of the techniques, tools, and basic carpentry skills are the same for a variety of projects. When it comes to your kitchen cabinets, making your own can save you a lot of money, but it can also be a rather rewarding experience. As long as you have a bit of know-how and the right tools, you can have a successful cabinetry project.
Cabinet Building Considerations
Before you dive headfirst into a cabinet making project, you should know that it's going to be a challenge. This is not a good project for someone with very limited woodworking experience. A complete set of cabinets will take a lot of your time and energy. You will need some basic woodworking tools, workspace that can handle sheet materials, and some substantial free time.
The basic theory of cabinet making isn't really all that complicated. When you think about it, you're creating a box shape again and again. However, in order to make a set of cabinets that will be solid and durable, you should pick up a book that deals with building and designing cabinets. This will help you as a reference throughout the project.
Doors and Drawers
The front doors and drawers easily make up half the battle when constructing cabinets. If you are a bit leery of tackling this part of the project, you can purchase ready-made doors and drawer fronts. This is quite a time saving tip, but for many woodworkers this isn't an option. It's part of the project where they really get to show their individuality. Should you decide that you want to do this part of the process, then you will need to ensure that you have the right tools, the right skill level, and the right knowledge to do a great job.
Cabinet Drawers
Making the cabinet drawers is the second most challenging part of cabinet making. You can find a couple of time saving methods to do this. First, you can buy premade drawers.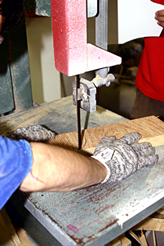 Secondly, you can buy precut material for the drawers.
Again, many woodworkers will not be happy with those choices and often prefer to build completely from scratch.
Before you begin your cabinet making project, make sure that you consider the drawer slides. There are many varieties available, with different styles and sizes. Ball bearing drawer slides are the longest lasting style and should be at the top of the list of best choices.
You will also need to choose the hinges and hardware. It is important to remember that not all types of hardware will work with all types of cabinetry. Do a bit of research before you shell out the money for gorgeous hardware that won't work with your cabinets.
Finishing Cabinets
The finishing touch to your cabinet will be the finish. It is not only a huge component of the visual aspect of your cabinets, it can also play a huge role in how long your cabinets will look fantastic. Remember that much of the environment in a kitchen is not really that friendly to wood. A good finish is a definite requirement.
Cabinet Building Made Easy

Find Out More About Custom Kitchen Cabinets

Return to Woodworking from Cabinet Making