A selection of my Bosch power tools, still in fine working order, despite being bundled in the corner
Bosch power tools have a long history. The company was started in 1886 by German-born Robert Bosch. Employed as a precision mechanic in the United States by the age of 22, he returned to Germany with increased knowledge and experience about what workers needed. He provided the world with a magneto ignition system that was considered a "leap forward" by the tool and equipment industry. By 1906, Bosch had a presence in the United States.
Over the next century, Bosch became a leader in power tool production around the world. There is such an incredible array of tools and equipment available from Bosch that can tackle any task you can imagine.
You'll find Lithium-Ion cordless tools, oscillating tools, saws, bench top equipment, hammers and hammer drivers, sanders, grinders, drills, planes, and routers. There are many models in each category to help you get the job done. From the beginning woodworker to the experienced craftsman, there are Bosch power tools that will make your tasks easier.
Powerful Yet Light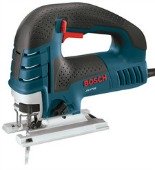 Bosch power tools are some of the most powerful, yet lightest tools available today. This company has just released a new line of cordless power tools that include 18V compact cordless drill/drivers, finish nailers, angle grinders, impact drivers, and impact wrenches.
A new top handle jig saw has a powerful 6.4 amp motor, a precision control system that has almost no blade wander,( a blunt blade of any make will wander) and a very convenient one-touch blade change system. With a weight of six pounds, this new model can help you make quick work of many woodcutting tasks.
I have had two Bosch jigsaws over the last 30 years, one of them was stolen and the design, feel, durability and efficiency has been difficult to match by others. These are some of the reasons why I have no hesitation in recommending reconditioned Bosch. Mine have worked perfectly for many years with minimal servicing.
#1 Retailer of Bosch Recon Tools Save up to 40% vs. New at www.cpotools.com
Multi-X Oscillating Tool Kit
Another entrant into the line of Bosch power tools is the Multi-X Oscillating Tool Kit. The versatility of this power tool is exciting. It's designed for a multitude of materials and applications, such as sanding, grinding, plunge cutting, flush cutting, and scraping. The 2.5 amps ensure you have enough power for the heavier duty tasks and the variable speed dial allow you to control the speed to match the material and application.
There are a number of oscillating accessories and it has a small, soft handled grip, allowing for complete control and comfort during use. It's very compact, so you can reach even the smallest of areas. The professional design affords durability, low vibration, and robustness not common with the compact size.
Solid Choice For Beginners and Pros
Bosch power tools are a solid choice for both beginners and experienced woodworkers. The sheer number of tools and accessories available will surprise you. This company is known for innovation, quality, and durability, so you know you're getting a good deal. There are big reductions, probably because the economy is staggering and now is a good time to buy. You can view the large selection on offer by following this link to Amazon's selection of Bosch Tools
or by clicking on the picture below to take you to their specialist dealer,
The warranty is comparable with most of the manufacturers, with a one year comprehensive warranty. Any tool that is returned or repaired goes through extensive electrical, performance, and safety checks. There really is no doubt that Bosch will continue to manufacture a line of power tools that will be a great addition to your shop
Please also see more of my favourite Bosch tools and information by clicking on the links below.
Bosch Hammer Drills - More Info

Discover Bosch Cordless Drills

Looking for a Bosch Jigsaw

Bosch Miter Saw a revelation

Bosch Routers are My choice

Favourite Bosch Sanders

Bosch Table Saw - Great Woodworing Tool

Bosch Drills - More Information

Other makes of Woodworking Power Tools

Return to Woodworking from Bosch Power Tools