Favourite Bosch Sanders
Bosch sanders were my chosen preference 7 years ago, whilst renovating properties in France. I chose Bosch because I had been using their equipment for 40 years so knew of their reliability, but I hadn't used their model of belt sander before.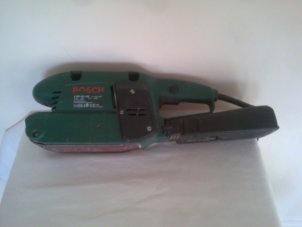 I'd left home in Manchester with a good selection of hand and power tools, cramming as many as possible into my estate car. A sander was not amongst them because I didn't think it would be a priority tool. How wrong was I.
I'd bought a tonne of French oak offcuts from a nearby saw mill and wanting to prepare them to eventually sell as table and bedside blocks, needed a belt sander to smooth them with the grain. n.b. A belt sander will scratch the wood if used across the grain.
I'd also decided, because I didn't like French plaster, to tape, fill and sand the joints of all the plasterboards.To make life easier I decided to buy an orbital sander too.
The photo is the Bosch belt sander which I had to drive 30 miles to buy and which sanded the entire tonne of one of the hardest wood you can buy.
Dusty Old Man
All brands of Bosch sanders have Microfilters for maximum dust collection but I haven't used much dust protection over all these years. Simply because 50 years ago we didn't worry about the consequences.
Apart from that I love the smell of wood, its just a pity that everything I now eat tastes of wood.
On the brighter side though, the Scotch has one hell of a flavour.
Back Home
Coming back to Old Blighty, my son wanted his attic space converting to a dormer bedroom for Tyler my grandson. Plaster-boarded, filled and sanded, but I'd returned minus my orbital. I sent Mark out to buy another.
I don't know whether its in the genes or not but without any prompting he returned with a Bosch orbital sander.
Just the job !
As they are all of the same quality, it is best if you choose your own to suit the job you have in mind. Another of my suppliers is Amazon because they often have some nice reductions.
Footnotes
As a bonus Bosch have the biggest range of sanding belts and pads I have come across, varying in density from a rough 40 to a fine 120 grit. These are also suitable for sanding metal, fibre glass and other materials.
When there is likely to be plenty of dust, as in sanding plaster joints, Bosch sanders can be attached to a hoover.
Might be noisy but it will help keep you healthy.


From Bosch Sanders Return to Bosch power Tools

Return to Woodworking