Bosch Cordless Drills
Making Work Easy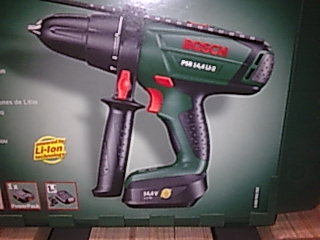 Bosch cordless drills have certainly come a long way from the earliest models. You will often see woodworking shops with a variety of cordless power tools. They are convenient and easy to use but there are times when the power is lacking. Bosch drills won't give you that problem.
Bosch Litheon 18 Volt Impact Drill
Whether you are an experienced woodworker or you are in the construction business, Bosch cordless drills are a good choice. A good example is the DDH181-01 18V Brute Tough Drill Driver. This drill has one of the highest torque ratings and you'll be surprised at the long battery life of the Fat Pack batteries which have 50 percent more 'run time' than the lithium-ion battery. This is just one of several varieties of drills that Bosch makes.
Brute Tough
The 24V Brute Tough is powerful enough to go through concrete! It's easy to change drill bits, even with one hand, with its ratcheting ½" chuck. The inside of the Brute is just as durable as the outside, as it has a Unibody power train. The reinforced collar protects this power tool if it's dropped on the chuck. This Brute Tough drill is one tough drill!
Perfect for Small Tasks
Another Brute Tough drill is the 14.4 volt rotary drill. Built with the same durability, it also includes overload protection. This helps to extend the life of the motor.
If you're looking for one of the Bosch cordless drills that are perfect for small tasks around the house, then the 12 volt max Litheon cordless is a good choice. At only two pounds, anyone can feel comfortable using it. Don't let its small size fool you, though. With over two times the speed of other drills the same size, the performance is quite exceptional. Since it weights so little, you can easily work with it over your head.
Great Warranty
Bosch has a great warranty for their cordless power tools, as well. Any Bosch power tool is guaranteed to be free from defects for the first year. The tool will be replaced without any questions. For Lithium Ion batteries, there is a two year warranty, with replacements shipped within 48 hours. However, if you experience problems with a Bosch tool after one year and before three years, Bosch will repair it at no charge. If a repair cannot be made, then the tool will be replaced.
For over 100 years, Bosch has created innovative tools to make any task easier. This company always seems to stay on the cutting edge of the industry. While Bosch cordless drills may be a few dollars more than some of the other brands, the extra cost is worth it. These drills are powerful, efficient, and durable.
What more could you want?
Amazon have a number of reduced items and they remain the top outlet for Bosch bargains making them extremely competetive. Click on the images below to view the drills and look through the specifications.
There is also CPOBOSCH who can be found by clicking on their image in this right hand column, or on the graphic below. They are main distributors of all Bosch tools.

Back to Bosch Power Tools

Return to Woodworking from Bosch Cordless Drills