Bosch Routers
I've used Bosch routers for many years, even though mine was stolen in 2000, when I'd left it in the house I was renovating.
The house was burgled during the night and they also took(thieved) my jigsaw and hand tools.
Since then I've hired routers from the local hire shop whenever I've needed one, which has been less and less frequently now I'm approaching retirement.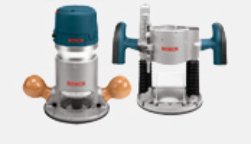 Bosch power tools have been my favourite ever since my first battery drill around 40 years ago.
All my Bosch tools have been put to the sword during my life as a carpenter, the router in particular was used extensively for rebating staircases, doors and window frames.
Not so much now since plastic windows and doors have come to the fore.
I now mainly use the Bosch routers for cutting work top joints. The plunge or depth control of the machine is essential for these joints because the cutter should work in stages. I usually do 6 to prevent the cutter burning.
Although Bosch are my first choice, they are not always available from the hire shop at a moments notice, so I have used other makes.
To be completely fair I have found no significant difference between them all.
What you can rely upon is the vast experience, quality and popularity of Bosch over the last 120 years. I've expanded on this on another Bosch page and for fear of getting my hands slapped by my web hosting company, cannot duplicate here.! ( Brownie points are always useful )


Types of Router
The Bosch routers range of duties include precise groove, edge, copy, worktop and workbench routing.
Bosch biscuit jointers for grooving corner and edge joints for biscuit dowels, with tool free adjustment.
Bosch Palm routers for hand guided precision control.
Then there's also Bosch tile routers which cut holes and shapes and is the ideal tool for floor and wall tilers. This has built in dust extraction for dry tile cuts.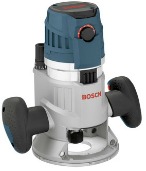 Distributors
Bosch are available from distributors worldwide. There are many of them. Links to 3 of their main outlets are in this right hand column, Tool King, Tyler Tool and CpoBosch.
I must mention, but never had cause to use, their replacement parts are easily available and tool guarantee comes as standard. In the unlikely event of you having cause to return a product it won't be sent back to you until it's been fully serviced to their exacting standards.
I may be a little biased towards Bosch but for sound reason.
They've never let me down.
I wouldn't be doing you any favors by not mentioning Amazon, who also have a good selection and are competitively priced. Their range is accessed by following the link below.
Other brands of routers

From Bosch Routers return to Bosch Power Tools

From here you can go to Woodworking