Know Your Tool Before You Start
by Pete Hildrich
(Shaw)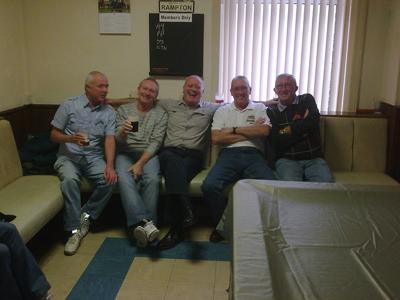 I'm the culprit in the middle, the others are just w..........
This story about a power drill happened 10 years ago, when a mate of mine decided to build his own house. Myself and others, mostly tradesmen went along to help him.
Phil, the plumber took Pete, a long distance lorry driver, to do some labouring for him and his first task was to drill a series of holes through the floor joists, for the flexible piping.
Pete began the drilling.

I was working nearby cutting stair risers with my jigsaw, but couldn't help noticing that Pete was struggling to cut the first hole.
I waited a couple of minutes but when Pete became engulfed in smoke, I had to go over to try to help him.

I asked Pete if I could take a look at his powered tool drill and bit, thinking that the spade bit might want sharpening.
Whilst doing that I asked Pete if he could give my son any driving tips as he was about to start driving lessons and he replied.
" Well, He should check first if the car is out of gear, then start the engine. Make sure no traffic is coming, indicate to set off, put the car in gear and slowly accelerate off."
I proposed " And if the car moves backwards , I presume he will have put the gear in reverse."

" I've done it again , haven't I." he replied.