Jet Bandsaw Models
You can hover your mouse or pointer to view the Jet Bandsaws and click on them.
You couldn't make a better choice than a Jet for your busy workshop and you are not limited to just one saw but a range of them which I have placed below beginning with the smaller woodworking machines. I will give you the basics of each saw because their full features are displayed when you click on the links. I don't like repeating myself, ,myself.
You are probably aware of the good reputation Jet machines have formed over the years which is probably why you have arrived here. I regularly search for the best value for each Jet bandsaw quoted and as you will notice there are a few suppliers. The carousel at the top shows band saws available from Amazon. The majority of those below are from competing distributors. Tool King are priced in $'s and £'s.
New product arrival is the JET 714500 JWBS-14SF 1-3/4 HP 1 Phase 14-in Steel Frame Band Saw
priced at $1,899.99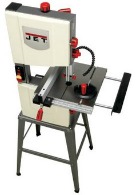 JET 707200 B3NCH and 153, JWBS-100S, 10 in. Band Saw with Stand
is best priced at 3 suppliers CPO JET, Tyler Tool and Amazon at the same price of $ 374.99. It can also be supplied from Northern Tool but is more expensive by $ 30. Main features of this bandsaw are :
Heavy-Duty 1/2 HP motor
4&frac12"; depth of cut
Weight 70lbs benchtop design , it's not too heavy to transport as it comes with a seperate table
Oversized, ergonomic knobs ( think that must mean 'big but precise'. Sounds better I suppose !)
A benchtop model Jet Bandsaw JWBS-9
Priced at £ 146.64 at Woodworking Centre Shop and its 12" table tilts both ways 45 degrees
Depth of cut 3⅛" and width to 9"
35W Quiet Induction motor
Comes complete with A 60 degree miter gauge, rip fence, 6mm blade and worklight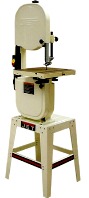 JET 708113A JWBS-14OS, 14 in. Open Stand Band Saw
is a model at 170lbs suitable for a hobbyist yet sturdy enough for a profesional and some of the features I look for are ;
Cutting height of 6" and width of 13½:"
Table size of 14" x 14"
Voltage 115v
Price $ 679.99 at CPO JET and Tyler Tool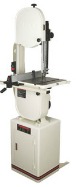 The JET 710116K JWBS-14DXPRO, 14-in Deluxe Pro Band Saw Kit
is best priced at CPO JET and Amazon at $ 999.99, whereas at Northern Tool it is $ 1,099.99.
1¼" HP and 115/230V
Cutting depth of 12" and width 13½"
10 degree tilt to left and 45 to right
Weight in shipping 258lbs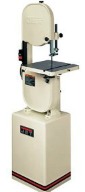 The JET 708116K JWBS-14MW
has a cutting width of 13½" and depth of 8" and priced at $ 899 at Amazon and another $ 0.99 at CPO JET and Tyler Tool
1HP, 1 Phase, 230V/460V
45 degree Right tilting table of 15" x 15"
Currently unavailable (7/1/2013)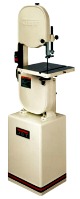 JET 708115K JWBS-14CS, 14 in. Closed Stand Band Saw
Cutting height of 6" and width 13½"
Table 15" x 15"
Weight 185lbs and voltage 115v
Price $ $ 749.99 at Amazon, another $ 0.70 at CPO JET, Tyler Tool and International Tool Corp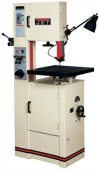 As the price suggests the Jet 414483 Vertical Bandsaw w/ Blade Welder VBS-1408
is a heavy duty Jet bandsaw for continuous shop production and enables the cutting of ferrous metals
Variable speeds for different materials and sizes
Multi tilting table. Forward 15 degrees and left and right 12 degrees
20" x 20" table
1 HP, 1 Ph, 115/230V Motor
Cutting width of 14"
Weight 580lbs
Price $4,399 £2739.57 at Tool King
Same price at CPOJET, Tools Plus, International Tool Corp and Amazon
$ 7,586.47 at Sears
A large designed 240V saw is the Jet JWBS-16 Mk2 with a 16⅞" square table, The mitre gauge tilts 60 degree both ways. Priced at Woodworking Centre.com £ 1,165.13 plus the dreaded VAT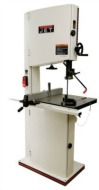 JET 710751B JWBS-18QT-3 3 HP, 18-in Bandsaw with Quick Tension
and 230V with a 19" square table
Cutting depth of 12¼" and width 18⅜"
Angle cuts 10 degree left and 45 right
Priced at $1,939.99 £1183.26 at Tool King, CPOJET, Tyler Tool and Amazon.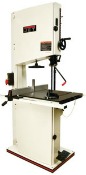 The Jet 708755B JWBS-20QT-5, 5 HP, 20-in Bandsaw with Quick Tension
is another of the larger Jet bandsaw models it is designed for the larger and regular stock cutting having a 21" x 21" table cutting to a height of 12¼" and width 20". It's very sturdy at 550lbs having a 5HP motor, 15AMP and 1Phase 220V. Priced at $3,159.99 £1,930.59 at Tool King, Tools Plus, Tyler Tool and Amazon
A 3HP version the JET 708754B JWBS-20QT-3, 20 in. 3 HP, 1 Ph Band Saw with Quick Tension
can be bought from CPOJET for $ 2799.99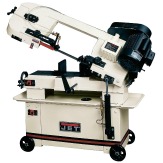 A horizontal/vertical bandsaw model is the JWBS-20Q, detailed at CPO JET as the JET 414459 HVBS-7MW, 7 in. x 12 in. 3/4 HP 1-Phase Horizontal/Vertical Band Saw
which is the same price at International Tool Corp and Amazon of $1,099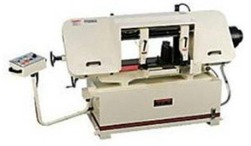 And if you fancy a machine providing assistance on heavy production this
will save you hours of standing by the machine. There is a price to pay though which is $10,999.99 from CPO JET, but it has increased in price by $1350.00 since January.
And that just about wraps it up for my selction of the Jet Bandsaw. You can see from their variety, that Jet make machines for everyone's requirements. I hope you find what you are looking for and wish you many happy hours of bandsawing !!
From Jet Bandsaw to More Woodworking Saws

This way to Woodworking Homepage