A hand fretsaw is often called a coping saw, occasionally a jigsaw because of its similar cutting motion, but there is a slight difference in that it actually allows for more intricate cutting and is able to give you more detail and delicate cuts. With precision, this saw will cut very tight curves that have a deeper radii than a coping saw. (Powered fretsaws are lower down the page)
What A Fretsaw Looks Like
It has a very distinctive appearance. It has a short blade, usually five inches, but the frame depth is between ten and twenty inches. The proportions look a bit off when compared to other saws. The blades are shallower than those used with a coping saw; however, the blades are also more fragile. While the coping saw is useful for long narrow cuts, the increased depth of the fretsaw gives you more access farther in from the edge of the stock.
The scrollsaw is the motorised version of the fretsaw and most of the blades can be used on either type of saw. The term "fretsaw" is actually taken from the French word "freter," which means lattice. The intricate patterns this saw can create make this term quite appropriate.
You will need quite a bit of practice to master the cuts from this hand fret saw. The frame is large and the blade is small, which makes it very easy to drift away from the cut you desire. A V-board which is clamped to the edges of the bench top, helps to support the stock, but still gives you enough clearance for the blade with its v-shaped slot in it.
I have used the Olson SF63507 Fret Saw
recently which has a similar handle to the Eclipse coping saw which I have used for many years.
Blade Choices
Originally two wing nuts clamped the blade into place. Without the use of wrenches, you couldn't get the wing nuts tight enough. The modern tool now tightens the blade simply with the handle.
There are several types of blades, including spiral blades that have teeth on all sides. These allow you to cut in any direction without you having to rotate the blade
Practice Makes Perfect
If you are planning on using this very impressive saw, you will need to spend some time practicing. These delicate cuts are not something that can be done without a great deal of familiarity with the saw, for instance it takes practice to keep the cut at 90 degrees to the timber because of its very thin blade.
Fretsaw Machines
There are also electric fretsaws often called scroll saws which remove the labour element from the work, eliminate any wandering of the blade you will find with the hand versions and reduce cutting time considerably.
Most models have a tilting table which can cut angles up to 50 Degrees, although 45 degrees is the norm on most models. The cheaper versions of fretwork machines are suitable for small, intricate work, pattern and model-makers. So long as they are used for their intended purpose and their capabilities aren't stretched they will perform well.
Established manufacturers at the lower end of the price scale, the first 6 best priced at Amazon :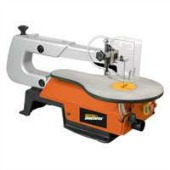 Rockwell RK7315 16-Inch Saw
Throat ( distance between blade and arm ) 16"
Cutting depth is 2½
Variable (no load) speed between 500-1700spm (strokes per minute)
Powered by 1.2 amp motor
Dust port & blower
Weight is 53lbs
Price $ 129.98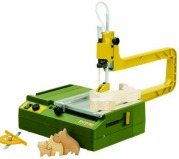 A very lightweight model is the Proxxon 37088 DS 115/E Saw
which you should only consider for small or thin gauges of fretwork. It hasn't the stability for large or heavy work.
Throat 1 13/16;"
Cutting depth 1 13/16;"
Electronically controlled 150-2500spm
Weight 7.2lbs
Price $ 141.34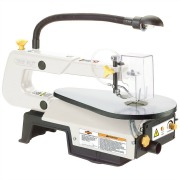 Shop Fox W1713 16-Inch Variable Speed Saw
Throat 16"
Cutting depth 2"
Variable speed 550-1700
Motor 1/8HP, 110v
Dust port and blower
Weight 38lbs
Price $169.99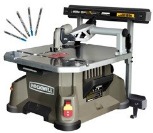 The Rockwell RK7321 BladeRunner with Wall Mount
is a good rather inexpensive choice, is reviewed well by other contributors and will perform various tasks such as rip sawing. It can be wall mounted if you are short of space.
Cutting depth 3½"
Motor 5.5amp
Dust port
Weight 28lbs
Price $147.99(Reduced from $159.99)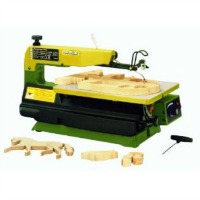 Cutting deeper into your pocket is the
Proxxon 37090 DSH/E Saw
with a 20¾:" x 11" table, suitable for fine, small detailed work on its cast iron table, which can be bolted down for stability if required and with a price tag of $285.00.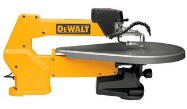 The DEWALT DW788 1.3 Amp 20-Inch Variable-Speed Saw
is my pick of the crop for sturdiness, ease of use and performance. It doesn't shirk the tasks required of it, the only drawbacks as you may have guessed are the price at $459.10 and if you require a DEWALT DW7880 Saw Stand
an additional $70.99 but worth the investment when used regularly.
Reconditioned Fretsaw/Scrollsaw
Savings can be made when purchasing reconditioned models, which are often simply returned to the supplier as 'not wanted' and have little or no imperfections. My distributors in the right hand column above, have Reconditioned departments.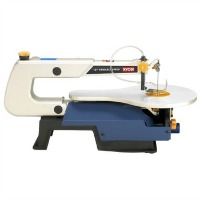 Here's a cheap Factory Reconditioned Ryobi ZRSC164VS 1.2 Amp 16-in Variable Speed Scroll Saw
model from Tyler Tool at $89.99.

My advice with any of these scroll machines is to allow the blade to do the cutting. Don't force the materials at the blade as it will cause the blade to either snap or burn the material.

The life of the blade and machine, no matter what the price, will be extended tenfold.



Back to Woodworking Saws

Return to Woodworking from Fretsaw