12 Essential
Woodworking Hand Tools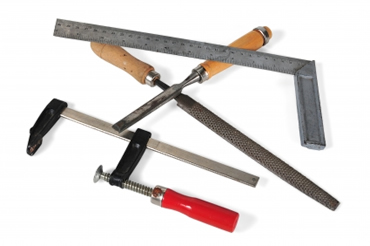 If you are not sure what woodworking hand tools you will need to get started, then the following information will be quite helpful. This list of tools is what you will need for just about any project and some you may already have in your tool box.
There are highlighted links to individual items which I have used for many years and you'll notice that most are made by Stanley Tools who in my opinion can't be beaten for quality and the Suppliers Tool King, CPoOutlets, Tyler Tool and selected others for reducing prices.
There is a search box at the top of their pages, which you can use to find tools not mentioned here
1. Finish Head Claw Hammer

At some point in his or her lives, everyone has used a hammer as one of their woodworking hand tools. There are many different types and sizes of hammers, but the traditional framing hammer with a slightly rounded, smooth finish head is the most versatile and the one I prefer rather than a claw. Select one that isn't too bulky or heavy, such as a 20 oz. It should feel good in your hand and not chunky or very heavy.
The best by far is the Estwing which surprisingly has seen large discounts over the last 2 years, which is probably due to other producers copying their products. I don't know a carpenter who hasn't one type or another of an Estwing E3-20C Claw Hammer
Priced at $25.97.
I prefer the extra 4oz weight of the Estwing 24 Oz. Framing Hammer
at $38.50 because I do lots of stud work. An in-between hammer is the Estwing E3-22SM Framing Hammer Metal Handle
Priced at $24.29. I will advise against buying the leather handled because there is a tendency for the sections to work loose.
2. Axe

Truly invaluable woodworking hand tools are axes and this Estwing E45A Campers Axe Metal Handle
not only feels the part, it looks the part too. Price at $39.96. They have many uses, but it's also the easiest and fastest tool trimmer of timber, perhaps axeing the last length of floorboarding scribed to a wall.
I use mine as a wedge when hanging doors sometimes. If it's sharp enough it puts an edge on my pencils and if my hammer isn't handy I use the bulky end of the axe for nailing.
3. Tape Measure, 16' Retractable

This is a must for any woodworker. You should have one that has both metric and standard markings, a slightly loose hook at the end , and a locking mechanism. The loose hook helps the user get true and accurate results no matter if the Stanley Hand Tools 33-279 Max 1-1/8 inch X 25 Tape Measure
is used to take measurements internally or externally. I have chosen a 25' x 1⅛ wide tape because I don't often measure beyond that length and a decent width which prevents buckling up to around 7'. Tool King $23.83
4. Utility Knife

Get a good utility knife that locks and the blade is recractable. One that uses the disposable type of razor blades is best. Although like carpet fitters I sharpen the blades on my oilstone. You can use what was always called a Stanley knife to make a mark in a piece of wood, sharpen a pencil if the axe isn't handy, clean up a painted hinge, or any one of the other hundred times you'll need a Stanley Hand Tools 10-499 Retractable Blade Quick-Change Utility Knife
.Priced at Tool King $11.28
5. Chisels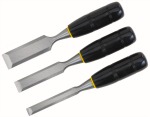 You'll need more than one. A good selection to have is a ¼, ½, ¾, and 1 inch widths. Choose the bevel-edged chisels and keep them within arms' reach. You'll use these frequently to clean up your mortises and joints. You'll probably find dozens of other uses for them too. Marple.
take some beating but a small set of Stanley Hand Tools 16-150 3 Pc Set Short Blade Wood Chisels
will do most jobs and save you some money too. Price at Tool King $24.07. By the way, wooden mallets aren't needed much more as woodworking hand tools, your Estwing is fine, although wooden handle chisels still prefer to be hit by a mallet.
6. Levels

You should have two different lengths of levels. One will be rather long, such as a 36" or Stanley Hand Tools 43-548 48 inch FatMax Non-Magnetic Level
Tool King $43.56.

If your pocket won't stretch so far this Stanley Hand Tools 42-074 24 inch Top Read Aluminum Level
is priced at Tool King $12.11.

The other should be Stanley Hand Tools 42-291 9 inch Magnetic Thrifty Torpedo Levels
Tool King $9.60. Always check your work to prevent problems later on and the cost of having to redo part of your project. From time to time I check the level's accuracy by marking a line one way then turning the level to its opposite side. Dropping the level or bashing it can affect it's truancy.
7. Screwdrivers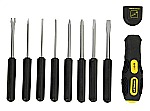 No matter what type of woodworking hand tools you may have, a selection of screwdrivers is a must. Don't waste your money on a cheap set, either. They will only break or fall apart. You'll want both the flathead and Phillips versions and this versatile Stanley 62-511 9-Way Screwdriver
set is as good as any. Price $13.57. Yes, I did say don't buy cheap, but they are far more expensive elsewhere.
8. 45-90 Degree square

This Stanley Hand Tools 46-012 12 inch Professional Combination Square
is always by my side. I've chosen the more sturdy one of these woodworking hand tools because I often drop it and it takes the blows much better than a flimsy one. The price can't be argued at either Tool King $10.62
9. Nail Sets

This set looks like a bunch of small reinforced nails but it's used quite differently. You can sink the nail heads either just below the surface of the wood or directly flush with it. There are multiple sizes of punch but a good selection is the Stanley Hand Tools 16-226 6 Piece Pin Punch Set
ranging in sizes 1/16" to 5/16" x 6" long, which are 2" longer than mine. I rather fancy that extra 2" which might save me from hammering my fist now and again. They are priced Tool King $24.62
10. Hand saw
I have used a 22" hand saw for 40 years, 20" are as good but I am not used to the shorter length of cut of these woodworking hand tools. Hard point saws are now the order of the day, I stopped using my Distin saw when hard point were invented. I buy approximately 1 per month, it saves me the time spent sharpening and setting. My best two are Bahco and Irwin 20-Inch
11. Pencils
I always have two. A woodworkers pencil which has a thick edge and an ordinary HB for fine detailed work such as mortice locks and handle markings.
12. Smoothing plane

The last of the necessary woodworking hand tools that you should have is a Stanley 12-204 No 4 Smoothing Bench Plane
with a 2" cutting width is sufficient for most planing jobs and a length of 9¾. Priced at $45.39. You can shave very thin amounts of wood off the piece you're working on. You can also clean up the edges of your work when you're assembling the different pieces. Practice makes perfect, though, because you don't want to remove too much and have to start over. If you can get these 12 essential woodworking hand tools into your collection you're off to a great start and you might think of expanding your tool box with these 3 additions



Stanley Hand Tools 12-220 7 inch Adjustable Block Plane
Tool King $37.48
Stanley Hand Tools 21-296 12-1/2 inch Surform Plane
Tool King $18.59
Stanley Hand Tools 21-399 6 inch Surform Pocket Plane
Tool King $11.54



Back to Woodworking Tools

Return to Woodworking from Woodworking Hand Tools
A new tool or old. Can you remember ?
It could be a tool you have since stopped using.
A plane you couldn't set
A chisel you kept abusing
You've a tale to tell I bet !

Other Best and Worst Tool Stories
Click below to see contributions from other visitors to this page...

Better Than Best Stanley Screwdrivers Not rated yet
When a ratchet screwdriver replaced the ordinary screwdriver it also replaced to a certain extent blisters . At the time I thought it would never be surpassed. …
To Your Stories for More Topics to Write about