Basic Wood Carving Tools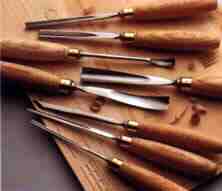 Wood carving tools are a great addition to any workshop. You can find a nice beginner set of carving tools for a very modest price. These tools will come in very handy and can be used indefinitely and are best suited for older children or adults, as they are very sharp.
Usually used on soft woods such as pine or basswood, you can really add your special touch to just about any woodworking project with these versatile tools. Here are some of the basic wood carving tools that would be a valuable asset to your collection.
Palm Tools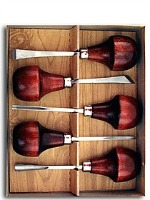 Most beginning palm tools come in sets of five or six. The tips of these tools have varying curved angles and widths. The ball shape handle helps you control the tool more easily, as it fits comfortably in the palm of your hand. This 107 Wood Carving Set set of 5
at $54.80 are great for small carving projects because of the high level of control, especially when compared to straight handled tools made to use with a mallet.
Bench Knife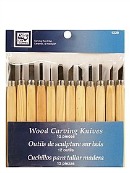 A bench knife is a very sharp, straight knife that is normally used for scoring. You can use this to trace around patterns, clean up an edge (very carefully) and numerous other tasks. Keep it sharp or you may not like the results you'll get. There are also carving knives, this Wood Carving Knife Set knife set is cheap enough at $9.30 to experiment with. You could always buy more expensive tools should you form a passion for carving.

Sharpening
Speaking of keeping your woodworking carving tools sharp, you will need a leather strop ,or and what I prefer, an oil-filled Norton Consumer 85440 Crystolon Bench Combination Sharpening Stones
which have coarse and fine grit sides. Price of $16.21. There is an art to sharpening/honing, so it may take some practice to get the results you want. Depending on how often you use a specific tool, you may also want to take it into the hardware store for a professional sharpening occasionally.
Gugasanders
These small metal rods may be hard to pronounce, but they are invaluable when you're working in the small, tight spots of your projects. These wood carving tools have detachable cone sanding discs and can be used to clean these small areas, giving your finished project a clean and beautiful appearance. I'd become frustrated with this tool, especially when working into the grain and would go look for my Dremel 4000-6/50 High Performance Rotary Tool Kit
priced at $139.99 which has a $10 discount.
Straight Handle Tools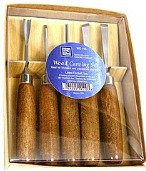 These are designed to be used with a mallet and can quickly remove excess wood. There are limitations, such as the amount of area you have to work on and whether you can get your mallet in the area of the handle. There are various sizes, widths, and angles. Look for a set that has five or six different types of tool, but you can also find some sets with thirty or more different tools. This 110 Wood Carving Set set of 5
are forged steel with a keen edge. The handles are made of hardwood with mahogany lacquer finish and are protected by nickel ferrules. Priced at $47.41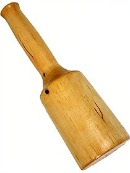 What you may not have is a Wood Carving Mallet mallet
this being decently weighted at 12oz with a price of $15.30
The last handy carving tool is the Wood Carvers Rasp rasp
to remove all those chisel edges. Price of $17.16,
( Sorry about those doubles Mallet and rasp )
Closing Comments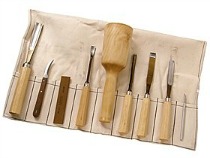 There is a bundle wrapped in a take away wrap around which includes a selection of chisels, sharpening stone, mallet and knife, included in this Wood Carving Set carving set
Cost of $151.99.
Using wood carving tools can be somewhat tricky and the key to using them effectively is practice. You can quickly remove too much wood or damage a piece of wood, requiring you to start all over again. Cut with the grain of the wood not against it. Take your time, have some patience, and you'll be rewarded in the end.
You will find a fine selection of inexpensive and expensive tools such as Robert Sorby, Crown and Flextool/Flexcraft by clicking on this link to
woodcarving tools
Find woodcarving tools

Back to Woodworking Tools

Return to Woodworking from Wood Carving Tools