Quality Woodcarving Tools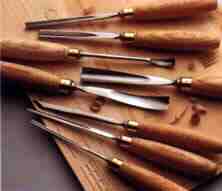 When buying woodcarving tools it's priority that you buy quality because of the amount of bashing they are subjected to and you also need the cutting edge to maintain its sharpness which happens with a good quality of steel.
Having a good range of chisels to commence your work is vitally important too. There are many thousands of these to pare away your workpiece, but not many of us have the funds to buy even 1 percent of them. Even if we have, many of them can be adapted to do a variety of different cuts.
We have to strike a happy medium and who better to consult than Robert Sorby. The company have been top of the ladder for over 200 years, producing the finest quality of cutting tools.
Their reputation is worldwide within the industry but they haven't sat on the backfoot, they reinvented the carving tool as recently as 1994 by giving their tools better balance through thinner blades of Sheffield alloy steel and impoved the tool's fine edge with heat treatment which helped to keep their razor edges sharper for longer.
All their chisels and gouges can be bought seperately but also in packs which include the most popular chisels, sculpting and micro carving tools
By Comparison
An alternative and a little cheaper are the range made by Hamlet Craft tool. They offer a variety within a six pack, sounds healthy!
Certainly enough to begin with if you're new to carving.
A more innovative product is made by Flextools. Their blades are made of spring steel which flex and bend to the contours you are chiselling. Who would have thought that was possible ? I've not used them and don't know of anyone who has, but maybe someone out there will drop me a line.
Their blades are interchangeable too, another innovation. These are sold again in sets of 6 or 11 and are the most economical.
Also on the market there are smaller handled woodcarving tools, presumably for smaller hands, which in my mind could mean children. Children of what age I might ask.


In my youth I wasn't allowed anywhere near a chisel until my first woodwork class at the age of 11 and then strictly supervised. That was 50 years ago and times have changed, but as a warning I stuck a chisel into my palm at the age of 18 !
A good selection and some reduced prices, along with cheaper alternatives can be found by clicking on this link to woodcarving tools
Accessories
To aid the use of your woodcarving tools a woodcarver or sculptor usually requires a mallet
for the heavier blocks of carving. These are sold untreated and must be soaked in linseed oil before use and occasionally thereafter.
Unless you are a budding Henry Moore, trying your hand at woodcarving, a clamp will make your smaller masterpieces much easier to carve. There is a good variety and most allow the workpiece to be revolved 360 degrees
Heavy duty or cut proof gloves are recommended by Health and Safety, but I'm sorry I can't get a feel for the tools whilst wearing them. Maybe if I persisted, but I'm too old for that.
A good pair of work boots are essential though, now and then a tool will be dropped. Ouch
You can also look the part by wearing a smock or woodworkers apron and even have your name embroidered.
If you are just starting out you may need some guidance so either of these two books will give you all the advice you should need.
Fox Chapel Easy Woodcarving by Cindr Joslyn
GMC Beginning Woodcarving by various authors
Return to Green Woodworking

Info at wood-carving tools

From woodcarving tools to Woodworking