Wood Burning Tools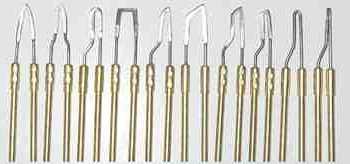 Wood burning with wood burning tools is an art form which is basically a line drawing made by scorching instead of by pencil or charcoal, although I have to first draw the main features on the material before burning. I'm not talented enough to start without the lines in place.
If you are just starting woodburning, the correct name is pyrography and to initiate yourself into the art I suggest that for starters all you need is a basic tool with a fixed tip and a block of wood or piece of leather or cork.
The basic tip, although there are many others, is made of brass approx 5mm, shaped at the end like a sharpish screwdriver. Sorry I can't define it better !
If you enjoy the experience you can buy a tool and screw interchangeable tips of many varieties and the more advanced users can regulate the tip temperature with integral thermostats. The basic tool's temperature is a hot 750f degree average.
Scorching Materials
The most forgiving material is wood because providing you haven't burnt too deeply you can plane and sand the surface then start again. That's providing the wood is thick enough, wood veneers won't be.
The surface of the wood should be quite smooth, otherwise you will get an irregular burn. Sand away any saw cuts or raised grain if you are using a log end, I use a Bosch belt sander, which, if you want one look at Bosch power tools on the navbar to the left.
I practised on a 12"x9"x1", which I planed down twice before saving it for the bonfire.
I know practice makes perfect but I'm just not that good at it, I'm sticking to carpentry. My saving grace is that I can cut, shape, sand and apply the finish.
Leather is another good material, which can be fastened to a timber frame. Spread it as you would a canvas, fastening the opposite middles first, then work towards the corners..Or you could simply fasten it to a board. The thicker the leather the better.
Gourds, don't know if you've heard of them, but they are the dried fruit shells of plants. I've not tried working on these but all reports say they are a good material. Worth a try and there's a decent Gourd Pyrography
book if you'd like to learn more. It's priced at $11.25.
I'm going to hazard a guess that dried 'plaster of paris' and unfired but hard clay can also be burnt to a design.
Maintenance of Bits and Kits
The tip and stem of the wood burning tools should be sanded with a fine grit paper to remove buit up carbon, but don't forget to let the tool cool first.
Basswood is the favoured wood to start your adventure, but most wood varieties are ok.
Described as Woodburner Kits Hobbyist Woodburning Kit
this product is made to burn faster and darker and is the right choice for darker wood such as walnut, or the hard wood of oak. The small shaft of the tool is designed to give you more control enabling finer, precision work and there is an assortment of tools to aid almost every design. Priced at $ 16.48.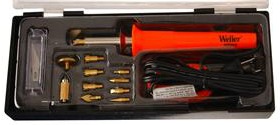 If you would like a kit to include project designs and be inclusive of 9 different burning tips, then the Cooper Tools WSB25WB 15 Piece 25 Watt Short Barrel Woodburning Kit
is good value and priced at $20.55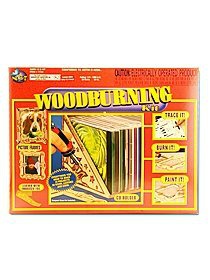 There is also a kit of wood burning tools, which includes various materials of wood, leather and cork along with acrylic paints. It has an assortment of tips and is described as Woodburning Kit woodburning kit
, although I don't know why they have to repeat the name ! $30.85 is the cost ot this package.
This link to wood burning tools
, gives you more choices of tools and also shows a variety of wood burning 'stoves', handy if you ruin your masterpieces !
So that you don't ruin anything maybe you would like Learning the Art of Pyrography
first. The bonus with this book supplier, apart from the price of $14.20 is that once you have learned how to burn you can sell the book back to them !
They don't offer much back but I think you'll agree, something is better than nothing. Bookbyte have a good selection of wood burning tools books and because of their 'buy back policy' and low, new and used prices, is the store I recommend.

Sign your masterpiece with a Woodworking Branding Iron

Return To wood working Tools

From Tools for Wood burning to Woodworking