Router Tables
Which Is Right for You?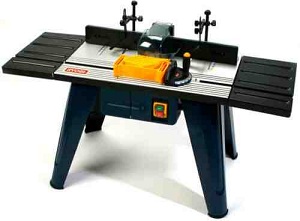 Router tables are used to hold a router securely so that a woodworker's hands are free during cutting. There are many factors to consider when choosing this important piece of woodworking equipment. Below, you will find some of those factors to help you choose one of the many routers that will best suit your needs.
The Surface of the Router
Any router needs to have a rigid top that is as flat as possible. Many of the types of cuts that happen on a router have to be precise. Even what seems like a minor irregularity can end up causing uneven rabbets, skewed joints and a host of other problems. Rigidity is also important. Very seldom will you ever find a piece of stock that is perfectly true and flat. You usually have to "persuade" the stock to move as you would like. If the table flexes, even if it's just slightly, you will have an exceptionally difficult time getting an accurate cut.
Material of the Router Table
The type of material the table is made from will determine its strength, stability, flatness, and durability. Cast iron is probably the best you will find. Not only does it provide the aforementioned qualities, it also helps reduce the vibrations from the router itself. If you are only going to use the router on a limited basis, then you can probably get away with a table that isn't made from cast iron, such as one made form a solid phenolic resin or medium density fiberboard. However, if you use a router on a daily basis, then a cast iron top is definitely worth your consideration.
The Quality of the Fence
Almost all router operations will require some sort of mechanical means for guiding your stock through the cut. An easy to position, accurate fence is very important. The quality of the fence can really vary from a straight piece of lumber clamped to the table's surface to one that has the tiniest of incremental positioning. There are fences that run right in the middle. As long as yours is rigid and straight, easy to move, stays in position, and has a lot of range, it's a good choice.
The Base Plate
The base plate of a router is also important. It fits into the rabbeted opening in the top of the table. While it may seem as though this should have little impact on the overall performance of the table, it is what holds the router in place. It needs to be substantial and solid. Aluminum is a good choice, but solid phenolic can be as well if it is thick enough.
Level Router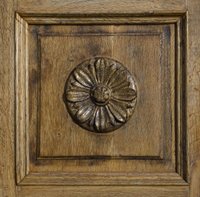 The base plate needs to be perfectly level with the router table surface. Almost all router tables will have a base plate leveling system; however, not all the leveling systems work the same.
Some are only a matter of four leveling screws, while others are integrated into the lock down mechanism of the plate.
These are some of the basic factors that should be considered when deciding which router is the right choice fit for you.
There are many different manufacturers of router tables and they can range quite extensively in price and features.
A bit of research should help you choose the perfect table for your woodworking needs.
Bosch and Porter Cable are my choice, their sturdiness and reputation for quality sets them apart and you can find them here at good prices too, along with a few other router tables
Back to Woodworking Tools

Return to Woodworking from Router Tables