Woodturning Tools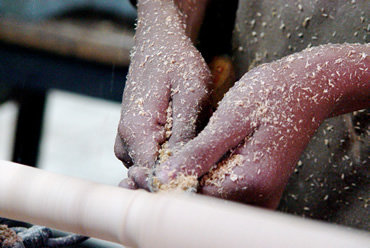 When you are first starting to learn woodworking, you may wonder which woodturning tools you should invest in for your shop. There are really two ways that you can acquire such a set of tools.
The first is to buy each tool individually and build your set. The second is to buy a complete set from a manufacturer. In most cases, the first option is really the best bet for new woodturners. This is because many of the sets contain tools you may not use all that frequently and will be missing the specialty tools that will set your work apart.
Two Categories of Woodturning Tools
Faceplate turning tools and spindle tools are the two categories. If you are not familiar with these types of tools, don't worry. Many a woodworker has learned as they progressed with their skills and knowledge.
Spindle tools are used to create projects like tables legs. They are specifically used when the bed of the lathe is parallel to the grain of the wood.
When the grain of the wood turns perpendicular to the bed of the lathe, faceplate tools are used. There are also some specialty tools that are used for center saving, texturing, deep hollowing, and threading.
You should think about the projects that you want to tackle before you buy your tools. Do you want to turn faceplate projects, spindle projects, or maybe a little of both? What size of lathe will you use? The larger lathes will require larger tools and vice versa for smaller lathes.
The diameter of the tool shaft is what is used to measure spindle tools. However, some are measured a bit larger. For example, a bowl gouge shaft is measured about an eighth of an inch larger than the width of the flute. Many turning tools have several different applications. If you purchase the right tool, you may find that you don't need two or three more that have a specific application.
Consider Buying These Tools
Here is a list of woodturning tools
that would be a good choice for someone just starting out. These tools would be for someone who wants to work on both faceplate and spindle projects, with a lathe swing of a foot or less.

Spindle Gouges – Used for fine detail spindle work.
Bowl Gouges – Used for the bulk removal and rough-out work.
Scrapers – Used for faceplate projects and occasionally bowl turning.
Parting Tools – Two sizes, one for deep parting cuts and the other for minimal waste.
Skew Chisels – Used for spindle projects to get a smooth surface.
Microturning Tools – Necessary for minute detail work.
A Final Thought The above list of woodturning tools is by far from all-inclusive. You may determine that a few more tools will help you accomplish your first project. Remember that these tools will take practice to use efficiently, but when you get the results you're after, it's worth all that time you spent


From here to recommended lathe tools and books

Back to Green Woodworking

Return to Woodworking from Woodturning Tools