Wooden Bird House Plans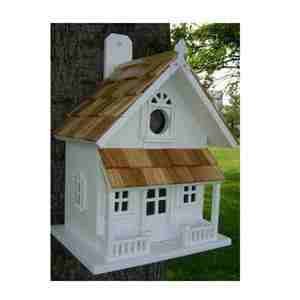 Garden Centre Outlet Bird Box
Bringing nature to the boundaries of your home via wooden bird house plans and the making or buying of the boxes is an excellent way of giving something back to the environment.
Your added bonus will be the eventual habitation of the bird house and subsequent birth of the young.
As farming, industrialisation and land development intensify with the growing population, bird habitats are becoming hard to find. Hedgerows and trees are vanishing.
Birds are homeless when they come to see us, feed and raise their young. They've often flown incredible distances and are desperately looking for accomodation.
We can help them.
Give A Bird A Home
Wood is the ideal material and reasonably 'cheap' too, even rough sawn is ok if you want to keep the natural look. You may even have some old scraps in your garden shed, make sure it's untreated though because the chemicals could be harmful to the birds.
In comparison to other materials, wood has insular properties not found in metal or thin plastics and can also be roughened on the inside to help the fledglings reach the entrance hole.
Ensure within your wooden bird house plans, there is sufficient ventilation near the top of the box sides, not only to allow the heat of the summer to escape but to allow cooler air in. If drilling these holes from the outer faces, angle the hole slightly upwards to help prevent water getting in.
At the base drill a few small holes to allow any fluid out or cut the internal base a little shorter than an exact fit.
I like the roof to be pitched and two sided, so that almost always, one half will be shaded or at least not be as hot as the other.
The rear should face the usual wind and rain direction.
Screwing the sections together is much better than nailing them because you need to remove 1 panel for cleaning of the bird house once the birds have flown and also help prevent warping of the wood which will create draughts.
Roof overhang of 3" to minimise ingress of rain.
Finally, the size of the hole should be proportioned to the species of bird you wish to attract. If, like me, you just want to create a bird house and see what takes a liking to it, then a 32mm size is general.
Get to know which species of bird you are likely to attract in your area and drill the relevant sized hole and also remember to enquire about their favourite tipple. You'll want a bird feeder too and ideally within the cost of your wooden bird house plans.
House Plans And Gourds
A good selection of wooden bird house plans, can be found by clicking on the picture which is a link to my favourite supplier of plans at very reasonable cost due to the amount of bird house plans they sell. The plans I have just noticed have been reduced by $ 3, giving you more value for money and include bird feeder plans too.
Or you may find what you desire within a smaller collection of a 7 Pack of Birdhouses Plans
Here's a colourful duo which may attract exotic birds if you are extremely lucky by building these
An even cheaper bargain, providing you like the plans is a selection of 3 Houses and 1 Feeder plan, which you can see in the picture below and view for full details by clicking on it.
I particularly like the look of the bird feeder on the right, although it does look a bit like Noah's Ark minus the bow and stern.
I wonder if the birds fly into it, two by two.
It's unusual to find photo's in black and white these days, perhaps the boxes are old designs but still very popular.
Two more that are unusual but with loads of character are the Ark and Lighthouse Birdhouse Plans
And should want to give your birds bags of space, perhaps with a second floor mezzanine then Extra Large Birdhouses could be your choice.
---
Woodworking4Home Plans will find you 23 different wooden bird house plans along with 13,977 plans of other constructions you may be planning in the future. Probably more than a lifetime's supply and only to be considered if you intend many projects in the future.
I like choices in life so another reputable plan provider is
Ted's Woodworking Plans Included in the prices of both are many instructional CD's for a vast variety of constructions. Note though that the above two links will take you to companies offering thousands of plans and will be more expensive than buying them in small quantities.
There is also a book 'How to Build Your Birdhouse- Endless Ideas and Easy to Follow Birdhouse Construction Plans' by Peter Wodehouse and available at Amazon in traditional book form or by Copying and pasting the title and author's name into your web browser for the free electronic version.
A different variety of bird house are Gourds, which are the hollowed out, dried fruit shells of plants. These can be hung form almost anywhere, a tree branch, a bracket on the wall and opinions are that they are well inhabited. Research has revealed that different sizes of Gourd are beneficial to different species.
Amish Gourds have a vast selection , many are ready made and painted in a variety of colors but you can buy the shells for your own gouging and interpretation of an appealing bird house.
And finally, I'd like to wish you and me many happy hours of building from your wooden bird house plans and perhaps at a later date we can buy camcorders to do some recording.
Alternatively maybe you will take a few photographs and submit them along with your story of capture. You can do this via the 'Your Stories' Navigation button on the left of this page. Place them in any category and I will move them here.


Bird Feeder Plans here too

More plans at Woodworking Plans

To Woodworking from Wooden Bird House Plans