Jet Wood Lathes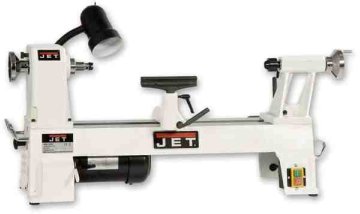 The biggest factor in choosing jet wood lathes is knowing you have made the right choice. Jet are a manufacturer with an excellent reputation in woodworking machinery and have lots of models of both woodturning and metal turning lathes, catering for most, if not all requirements. Their range surpasses any other make.
Summer reductions of Jet lathes for a limited time only from their main distributor

Four Quality Jet Lathes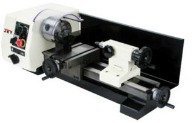 I'll begin with what sounds just right for the small turnings enthusiast, which is the JET JHL-610 Hobby Lathe
, which has a 5½" turning radius width and extends to 9¾". It revolves between 100 and 2000rpm and it's weight belies its look.
Priced at $1,1,279.86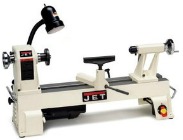 The second is the JET 708376 JWL-1220, 12-in x 20-in 3/4 HP Woodworking Lathe
3/4Hp motor
Turn of 12 inches
Length32 inches
Weight99 Pounds
Priced at $559.99
The variable speed model of the lathe is the JET 708376VS JWL-1220VS, 12-in X 20-in Variable Speed Wood Lathe
and priced at $709.99.
Although this model is designed to be a Benchtop, (weight of 99lbs) there are legs to make it a floor standing lathe, which is the Jet 708378 JWL-1220S Stand for the JWL-1220 Lathe
at $269.99Should you wish to keep it as a benchtop you can extend the bed length.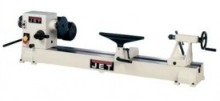 Moving on with ever increasing prices to a benchtop model, cheapest from Tool King is the Jet 708358 JWL-1442VS, 14-in x 42-in VS PRO Benchtop Wood Lathe
, which has the following important specifications;
Swing over bed 14" but reducing to 10" over the tool rest
Distance between centers 42-in
Gross weight 284-Lbs
8 speeds 450-3,000 rpm
Price of $1,199.00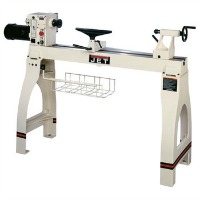 The final one of the jet wood lathes, detailed here is the JET 708359 JWL-1642EVS, 16-in x 42-in 1-1/2 HP Woodworking Lathe
from CPOJET, which is a very sturdy 410 lbs.
It has:
Swing Over Bed: 16-in but Swing Over Tool Rest Base: 12-in
Distance Between Centers:42-in+
0 to 3,200 RPM
1-1/2 HP, 115V
Price of $2,344.99
Complete instructions also come as standard, not only for setting up the machine but also the preparation of timber to be turned
Powerful accessories
Through their experiences of customer requirements over many yearsJET have many available accessories.
Should this be your first experience of wood turning, you probably want a few lathe chisels to get you going. Robert Sorby are one of the best tool manufacturers because of their steel quality but you will find less expensive to suit your purse.
Jet wood lathes are sold through distributors in 25 countries but if there isn't a dealer in your country they will be shipped to you.
I'd love to see your creations, they might inspire me to do more myself, instead of sitting here writing about them and imagining people are out there making weird and wonderful obelisks. I could do with doing more turning, but these days, I can't even turn the eye of a woman.
But send me a photo or message and I'll drool over them (not the women) on this website. You can do this via the Contact Coach or Your Stories in the navigation bar on the left.
Here is a link to view Amazon's range of jet wood lathes at Jet lathe


More info at Jet Lathe

From here to Wood Lathes

From jet wood lathes Return to Woodworking