Start a Home Based
Woodworking Business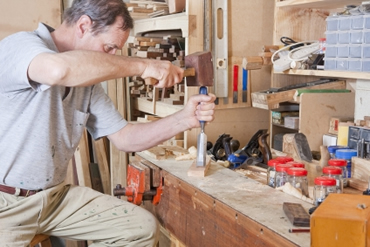 You don't have to be a master craftsman to start a home based woodworking business, although that certainly wouldn't hurt your chances for success! What you will need, though, are some reasonable woodworking skills and a portfolio of your work. This will allow potential customers to see some of your finished projects and understand your own creative flair. Be sure to include in your portfolio any qualifications you have including those gained at school and any additional courses of study you are considering.
You'll Need a Shop
This does not mean that you need an elaborately designed shop that comes with a high price tag. However, it does mean that you will need a space simply for woodworking. There are many who have started their woodworking business in their garage or basement. While it may not be the most ideal of locations, such an area can serve its purpose ie Space to store your tools , equipment and materials especially if you are to be jobbing. The more customers you acquire over time, the more income you'll have towards building that perfect shop you dream of.
Do You Have the Necessary Tools?
One of the most expensive factors about starting a home based woodworking business is making sure you have all the tools and equipment that you will need. You may want to consider leasing out some of the more expensive pieces or getting a small business loan to help you. Most woodworkers gather their tools over the course of time. You may find that you have everything you need to get started and can purchase additional tools as the need arises. Make hand tools your priority purchases along with an 18v battery drill, you can hire the rest.
Promoting Your Business Is Essential
While you may already have a few customers, you'll want to build up that customer base in order to succeed at a home based woodworking business.
Consider getting a website and taking some digital photos of your completed projects to showcase your talents. There are plenty of searchers out there looking for woodworking tradesmen and we can give you advice of how to go about creating your site.
Advertising in your local newspaper or woodworking supply store is also a great idea. View other people's advertisement to search for relevant wording and set a budget for the advert to be continuous for at least 6 weeks. Also keep a check on the days the advert appears, you may find the ad gets more response on a given day.
Leaflets and Biz Cards
As long as they are professionally done can also be useful and deliver them yourself if you haven't much work on.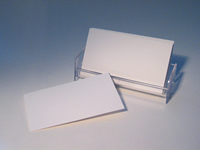 Take a few moments and order a set of business cards. You'll be surprised at how quickly your business will grow with just a few smart marketing choices.
Get to know people in other trades, you'll be surprised at how often you will get work from them.
Find small and large building companies, give them a ring or ask for the Sub contractor's number. If they have no vacancies ask to be placed on their list.
Pricing A Job
Be thorough. Itemise everything you will be doing even specifying products where necessary. Don't skimp on materials or make do, it may reflect in the final product. The labour costs are often questionable especially if the job is new to you so take time reviewing the hours it will take and price at a reasonable rate. Don't minimize, I've experienced that I get the same amount of work whether I am the dearest quote as when I am the cheapest, so I try to be average!
Book Keeping
Make a note of everything and I do mean everything. All your purchases and expenses and keep all receipts, your accountant will discard any that aren't relevant. Vehicle purchase and running costs, tax and insurance. Home expenses, if you are self employed you can claim for part of telephone, heating and lighting for your office. Itemise details on your bank statements, which will keep your accountancy fees down. Consult a local accountant who will advise you professionally how to conduct your home based woodworking business
Insurance Is A Good Choice, Too
Before you start working away in your home based woodworking business, make sure you have the proper insurance. This is really important with the number of power tools, electricity, and other potential hazards. You won't want to spend weeks creating a set of kitchen cabinets that are worth hundreds of pounds, only to lose it all in a fire. Public and property insurance is also a necessity. The right insurance is important and it's a sound business and legal move.
Check with Your City Government
Many local governments require a business license, even for a part-time woodworking business. It's important that your business is legitimate – especially in the eyes of your customers. Find out what requirements are in place for operating your own business before you get started. This will save you a lot of time in the future. If you are considering site work you may need a self employed certificate or card, contact Inland Revenue, it does cost you to do this now, it didn't in my day.
Don't Give Up
While you may feel like your home based woodworking business simply won't ever get off the ground, don't give up. It will take some time, but once it takes off, you may find that you wish it would slow down a bit! Keep searching and advertising for customers and don't hesitate to show off your woodworking skills to anyone who take a moment to see them.

An update to all the above information is to provide you with a video of how to effectively promote your business. Since I semi retired from carpentry I have used Solo Build It to build this website and an income !

Return to Woodworking Tips

Return to Woodworking from Home Based Woodworking Business