Electric Chainsaws
Make The Right Choice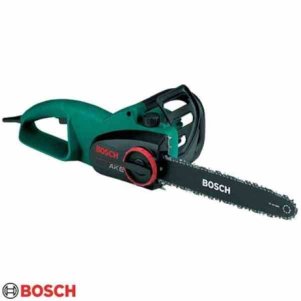 Your selection of electric chainsaws is vast, as you will notice if you follow this link to one of the best manufacturers, which is Bosch chainsaw
, so we'll narrow that down a little by beginning with the length of blade, around which the chain revolves and I'll include all types.
The smallest Makita have blades of 5" and 7", Black and Decker make an 8" blade and these are appropriate for very small section cutting such as small firewood, shrub and tree branch twigs.
They are battery powered and have shortcomings, such as a single battery of the Black and Decker takes 8 hours to charge and is without an important feature of a chain brake.
The shortest bladed electric models are the 12" Makita and the Stihl, which is quite a bit more expensive.
The most popular blade sizes are 14 and 16", their power described as HP, AMP or Volt. 120v in the USA and either 110, 230 or 240v in Europe, where the 110v requires the additional expense of a transformer.
My Choice First
I used a 16" McCulloch electric chainsaw on site to cut floor joists, floor boards and timber frames. I had to connect to a generator outside and eventually became sick to death of trying to save fuel by repeatedly venturing outside to turn the generator on or off, so I eventually bought a fuel driven Stihl.
At that time you wouldn't be seen dead without one. Stihl by the way, invented the chainsaw in 1926.
Then Health and Safety trotted along here in England and advised that a competance certificate be obtained when using a blade length above 14" as an employed person in an Industrial Situation. As far as I am aware, if you have used a chain saw prior to 5th December 1998 you are exempt from this.
I have to wonder why they could be bought from the DIY store by any Tom, Dick or Harry, who are far more likely to have an accident with them than I ever would.
Battery v Electric v Fuel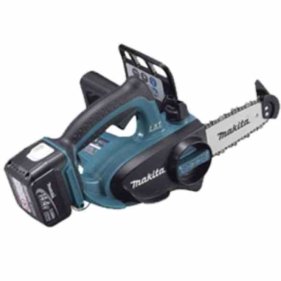 Power wise. The battery requires charging and its performance will gradually decrease as the battery loses its charge. You will need a power source to re-charge. It's also not as powerful as the other two types.
Electric chainsaws require a lead to reach the target, which must be fully withdrawn from its reel to prevent overheating of the lead. If no mains supply is available a generator is required. It has between 20 and 30 percent less power than the fuel version.
Fuel driven chainsaws require occasional topping up with a 2stroke mixture, which can be inconvenient to say the least.
Electric Pricing USA
Most of the brands mentioned here have higher priced saws with more enhancements, but in this poor economic climate we'll do the least expensive.
McCulloch make the lowest priced saw with a 14" blade at the time of writing at less than $ 50, but there won't be much thrust behind it as it's only 1.5HP. A little dearer is the Poulan 1.5HP, followed by the Remington 15AMP
The cheapest 16" blade I've found is the 11.5AMP Remington approx $ 60
Poulan come in at $ 90 for the 18" blade, followed by Crafstman.
Other established manufacturers are Stihl, Makita, Ryobi and Husqvarna but the prices rise from here up to $ 400.
Europe
14" bladed electric chainsaws start with the Draper 1500W, Bosch 1900W, Gardena 1800W and Dolmar 1800W.
At the lower end of the price range for 16" models are Silverline 1600W followed by Einhell 1800W, Makita 1800W, Ryobi, Gardena 2000W and Draper 2000W.
There are other makes Alpina and Handy which I hadn't before now heard of, along with Spear and Jackson, who were recognised a long while ago for their saws and tools.
Kickback Caution
You may have heard about Kickback, which can occur when the nose of the blade strikes or snags an object, causing the blade to kick upwards and towards you.
It's important to choose a chain with a low kickback or low kickback bar and a chain brake, which some lower priced models don't have. You can reduce the risk of kickback by always keeping the nose visible, so that it doesn't become buried in the wood.
I've noticed that it's as easy to experience kickback in the smaller pieces of wood as it is from the larger ones. My advice here is to always cut at full revs and keep the chain teeth sharp.
Essentials
Items to include with your purchase are Safety equipment. Lubricating oil and a file or a bench top sharpener to sharpen those teeth
Operating instructions to be thoroughly absorbed.
Finally before buying, read all the reviews of the product, they might just help to narrow down your selection of electric chainsaws to 1, or to change your mind and opt for a fuel driven saw.


Back to Woodworking Power Tools

From Electric Chainsaws to Woodworking