Drum Sanders
Six Manufacturers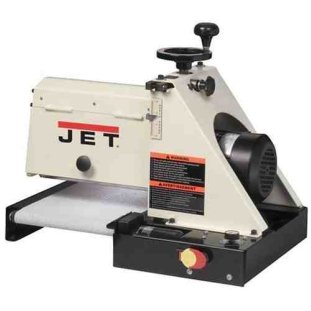 Finding the right drum sanders for your workshop depends on many factors such as sanding width size, height between the drum and conveyor, fixed speed or variable, single or double drum, open or closed end, primary surfaces requiring the sanded finish, panels, doors, sheet materials and
COST
In most cases the sanding width determines the cost, so we'll begin with the smallest of the open end sanders.
Single Sanding Drum
Above is the JET 628900 10-20 Plus Bench Top Drum Sander
selling at $764.99
1 hp motor for fast stock removal
4-inch dust port for easy collection
Large hand wheel for easy adjustment
Classed as a 10" but has a 20 inches wide capacity for sanding larger surfaces
Quick paper change for less downtime and more productivity
---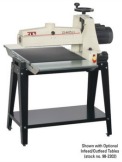 These are fixed speed machines.
JET 629004K 16-32 Plus, 16-32 Plus Drum
Drum sander and stand with 1-1/2-horsepower motor
Sands stock up to 32 inches wide
Aluminum self-cooling drum
Includes sander, stand, box of abrasives, and one TufTool
Backed by a five-year warranty
$1,119.99 price
---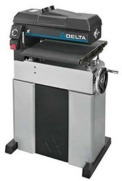 Another proven manufacturer DELTA have the model DELTA 31-260X 18-Inch-by-36-Inch Drum Abraser
which is fitted with a 6" grooved belt giving better power transfer and is priced at $1229.93
1-1/2 hp Induction Motor
6-groove belt for maximum power transfer
Superior parallelism of the work piece
Integral dust hood
---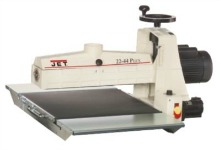 The last 5 are all JET, three in the 64900 range beginning with the JET 649003K Model 22X44 Plus 22-Inch 1-3/4-Horsepower Drum Benchtop Sander (Shown with Optional Infeed Outfeed Tables and Stand), 115-Volt 1-Phase
Regulates conveyor motor speed without overload
Self cooling drum
Easy change abrasives
Priced at $1,640.00
---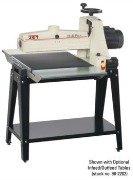 JET 649004K 22-44 Plus, 22-44 Plus Open Stand Drum
$1784.99
4 Kw
Variable-feed control
Self-cooling drum
Precise sanding thickness control
---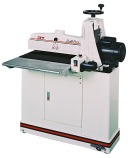 JET 649005K 22-44 Plus, 22-44 Plus Closed Stand Sander with Casters
has a price tag of $1939.99
Infinitely variable-feed control
Aluminum drum is self-cooling
Precise sanding thickness
Superior sanding control
Continuous-duty, 1-3/4 HP motor
---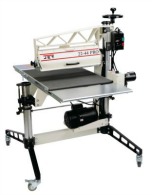 The final two in the JET range are; Jet 649600 22-44 Pro 3HP, 1Ph, DRO, Sander W/ Table and Casters
$2649.99 Out of stock
Digital readout that displays the exact thickness of the finished piece
casters mobilize your drum sander and also lock into place
3 HP motor is designed for heavy use for longer periods
Infinitely variable-feed control
changing abrasives quick and easy
---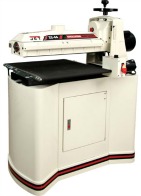 Finally their $2469.97 JET 22-44ODS Oscillating Sander Kit with closed stand
, which is a patented oscillating design. By oscillating 1" in its forward/backward movement it reduces the amount of scratching. The machine is dual purpose in that you can switch it to normal 1 way sanding to do the rough stuff first.

---
Closed Frame Sanders
Single Belt

Now I'll introduce the closed frame and double belt sanders of which SHOP FOX,G RIZZLY and POWERMATIC have good models.
A small and inexpensive at $793.46 is the SHOP FOX W1740 12-Inch D. Sander
Rubber in feed drum
Steel out feed drum
Rubber pressure drums
Micro-adjustable graphite/felt plate
Safety shut-off bar
---

GRIZZLY also make a small version but closed end, which is the the Grizzly G0459 Baby Sander, 12-Inch
priced at $945.93
Weighs a hefty 160-Pounds
1-1/2 HP sanding motor
Variable speed conveyor motor
1-1/2 HP 110V single-phase
---
Double Drum Sanders
The purpose of having double drums is to enable a rough grit on the leading drum followed by a fine grit for a smooth finish on the rear.
The first of three Powermatic's at $4284.99 is the 5HP Powermatic 1791290 DDS-225 25 in. 1-Phase 5-Horsepower 230V Dual Drum
At $6179.00 is the 7 1/2HP Powermatic 1791320 DDS-237 37 in. 1-Phase 7-1/2-Horsepower 230V Dual Drum
The third a 10HP at $5909 is the Powermatic 1791321 DDS-237 37 in. 3-Phase 10-Horsepower 230/460V Dual Drum
SHOP FOX have a 5Hp model quite a bit less expensive than the Powermatic at $2580.00, which is the SHOP FOX W1678 5 HP 26-Inch Sander
All the manufacturers mentioned on this page have good reviews, however there are always a few negative comments. Often they are because the machines have not been set up exactly and you should take care you follow all the guidelines found in the instruction booklets.
Don't forget too that these machines create a sackful of dust and adequate extraction should be paramount.
Now it is up to you to make your choice, helped I hope by the above information.
I wish you many hours of fine sanding and the following link will take you to many of those mentioned above sanders of the drum variety
Back to Woodworking Power Tools

From Drum Sanders To Woodworking