Delta Tools
In fact Delta Tools are now partners with their long associates Porter Cable who also have a long history of making excellent woodworking machinery.
They came together in 1960, although they had been complimentary to each other for 50 yrs. By that I mean their individual products didn't compete against each other.
History though doesn't count for much if their products aren't up to scratch, but with their combined expertise of being market leaders for such a long time, I can't see their future being anything but rosy.
At present the company are creating a new logo design, so that they are identified as one.
Products
Their artillery of power tools include all the usual products; circular saws, jigsaws, power and cordless drills, sanders, routers, recipricating saws, burners, grinders and much more
Amongst their new products are a 15Amp circular saw, small and large angle grinders, 18v cordless, Lithium Ion cordless impact drills and oscillating sanders.
New tools with tool free blade changing.
For the professional and beginer alike there is a mind boggling array of tools and machinery, making your woodworking experience both enjoyable and more importantly, in these harsh economic times, cost effective.
This was the basis upon which the companies were founded, to provide quality tools and products to make the work of craftsmen easier. Tasks which once took weeks to complete were reduced to hours.
Heavy Duty Machinery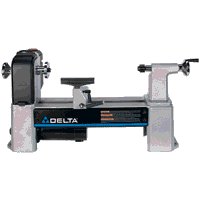 Amongst Delta's free standing machinery are table saws, Boring machines, Drill presses, morticers, band saws, miter saws, wood turning lathes and chisels
Developed over time to remain at the forefront of technology.
To summarise, these two companies have united to combine their knowledge and expertise to further develop their top range of woodworking products and to give the new generation tools for the future.
For a good selection of their woodworking equipment click on the links to their specialist distributors . You may also follow Delta's graphic link to view their hand power tools and it would be remiss of me not to include a link to their sister company Porter Cable.
There is also a large selection of Delta Tools
at Amazon who always keep abreast of price reductions
From Delta Tools lead to Woodworking Power Tools

Return to Woodworking Homepage