bosch hammer drill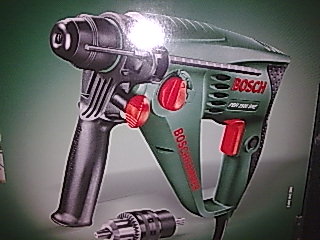 The Bosch hammer drill remains an excellent choice, I use them today as I did 35 years ago, only then I began with a 9.6v cordless, hardly appropriate for the heavier drilling tasks, such as drilling into stock bricks or concrete
The largest of the brand of drills is the GBM 32.4 weighing in at a sturdy 7.3 kg. For lighter work when little power is required, I now use my 18v at 1.3kg which is durable for most lighter work and doesn't give me biceps like Charles Atlas.
Choice Of Drill
How much power do you need and how do you assess it ?
That is rather difficult to explain but if you are to be drilling concrete day in, day out, the more power to your elbow and the heavier hammer drill will be best.
Only occasional masonry drilling, then a 500watt, of which there are various models, will be adequate and won't overburden the drills capabilities
Bosch Reliability
Bosch impact drills have an extensive 1yr warranty, should the unthinkable happen.
In those rare occasions they will repair and give your drill an extensive overhaul, ensured by their 130yr history.
They remain market leaders of electrical products, continuing to provide the essential tools for both Industry and D.I.Yers alike.
Maybe a little more expensive in some cases than other manufacturers but Quality is guaranteed
My Bosch tools have stood me in good stead for many years and I don't doubt for a second that you will be as pleased with them as I am with my collection.
As Bosch are a global company, their drills can be viewed and bought via this link to Bosch hammer drills
Some of the Bosh battery drills also have a hammer feature which you can view at Bosch cordless drills
Other makes for comparison will be shown.
I like to shop at CpoBosch who are distributors of Bosch and who you will find by mousing over their graphic and clicking on it.
Return here to Bosch Power Tools

From bosch Hammer Drill to Woodworking