Bookcase Plans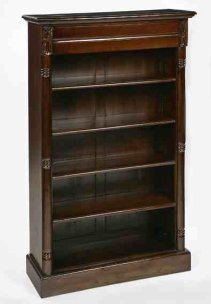 I first came across bookcase plans a long long time ago when I was 14 years old, My teacher, Mr Hardwick must have known I was up for the task of building a bookcase because he gave me the most expensive timber from the school's stock which was mahogany.
4 @ 72" x 10" planks which I had to cut to size, make dovetail corner joints and mortice and tenon shelf joints,
I was made aware of the timber cost and added to that was the sheer sizes of the timber, the combination gave me palpitations.
I was petrified of making mistakes, but he had faith in me and he will be pleased to know that was how I learned to trust people.
What I first learned about a plan though was not to completely trust IT. It stated 1" timber thickness but my planks were thinner so I had to alter most of the measurements.
First lesson learned, check and if still in doubt check twice. Then make the necessary corrections on your plan.
I remain to this day one of the old school of carpenters in that I still make all my joints by hand. I love working with wood and getting the satisfaction of making a joint without the use of machinery, but that's just my preference.
There are tools on the market for just about every conceivable job and if fine joinery is going to be your occupation you should buy them, the time you will save and the precision you will gain, once you have learned to use them is considerable.
Choice of Material
Should you be thinking of a polished material finish, popular choices are Mahogany and a little less expensive Luan or Meranti, deep reddish brown. You can of course buy redwood which defies its name as it's a faded yellow colour and with all timber they can be stained to the colour you prefer.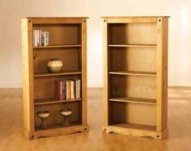 All timber should be stored after purchase to allow to dry. Rest on spacers, on a flat surface with spacers between each piece, then weight down to prevent warping. Store for a couple of weeks.
The recommended moisture content should be 7 to 10 percent, but how the heck we can measure this is beyond me.
Plywood is another good choice and cheaper to buy, which is available in surfaces of many wood varieties from light oak to a rich dark sapele. It's strong enough for any joint, but all edges should be laminated.
There are occasional problems in poor grades of plywood and spelches can occur when cutting across grain. Score with a sharp knife to help prevent this.
A pre finished material is melamime, a laminate coated chipboard but no good at all for woodworking joints.
Your bookcase plan may cater for a painted finish in which case MDF ( Manufactured Dense Fibre ) can be used. Joints in this material are of less importance when you secure a back board to the item. Joints can be secured by thick gauge chipboard screws, filled, sanded then painted
Few Tools or Skills
For anyone with limited woodworking knowledge or skills perhaps you should consider the easiest method of constructing a cabinet. As long as you are able to saw timber to size and can fix a few screws, you could consider buying plastic corner and shelf joints.
To make a corner you simply slot 2 boards into the 90 degree corner joint.
The method would be to cut the sides to the height required, then on the 2 internal sides, screw on the shelf supports. Cut the shelves to the required length and slot into the side supports.
Cut the top and bottom and fit the corner joints to them, then slot them into the sides. Secure by screws.
Nail a backboard to the rear of the bookcase to solidify the unit.
No complicated dovetails, housing or rebating required and few mistakes if any can be made.
If this is too unprofessional or displeasing for your living room, it's perfectly ok for a workshop cabinet and bookcase plans should not be required.
Plans to Download
Below are links to a good variety of quality bookcase plans and at very reasonable prices. I am sure you will find amongst them plan/s from which you will enjoy building as they have comprehensive instructions.
More professional plans with templates and exact sizes come in quite a few designs and I will point you in the right direction by introducing you to a special provider.
Some of these have fancy names such as Hacienda, Lawyer's, Mission, but none of them are mission impossible, more like 'mission probable', which you will find here. or another Mission bookcase, this time with 4-Shelves, is the AFD 289, but this one has glass doors which you may not want.
Feeling a little adventurous and want to construct more than one via your bookcase plans? Then why not opt for a Trio of Bookcases Woodworking Plan
Maybe you want a versatile Modern looking bookcase in which the shelves are adjustable then this Knock Down Bookcase Plans might be right up your street. I would have preferred though it being called 'Adjustable' rather than 'Knock Down'. It doesn't sound as if it will last two minutes.
Here's one that will test your skills as a carpenter, as it has drawers included and from it's name comes from the 'Wild West'. Hacienda Bookcase with Drawers Plan, AFD 294
Or how about leaving this one for your descendants to treasure, which is the Heirloom Bookcase Woodworking Plan or perhaps you like the idea of utilising the bookcase to prepare some documents and filing them away in its drawers, (to leave your Heirloom in your Will), then a sliding shelf would be appropriate within your Lawyer's Bookcase, Plan No. 700
Plans are often available today in bulk, where there are plans for everything and the kitchen sink. My choice is Woodworking4Home where you will find 56 bookcase plans along with 13,944 for most other projects. All are in the price of $ 49.
Another reputable plan seller, again having a vast range for many projects, instructional CD's and manuals click here for
Plans of Bookcases and so much more


Return to Wood Working Plans

From Bookcase Plans to Woodworking Homepage