Best Wood Lathe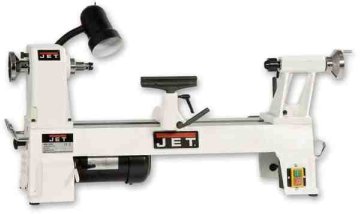 The best wood lathe for one person may not be the same for every craftsman. There are many different sizes, from the large industrial sized to the small hobby size. There are several different aspects to finding what you would consider the best wood lathe. Here are a few things to think about before you make your purchase.
Terminology
Know what the different wood lathe terminology means.

The stock is the piece of wood that you will put into the lathe.
The swing is measured in inches and it is the diameter of the piece of wood that will turn in the lathe.
The bed length is the length of a piece of wood that can be turned in the lathe.
The RPM stands for revolutions per minute.
If you are looking for the best wood lathe, you will want one that has a variable RPM. The horsepower is how much torque the motor has.
Types of Lathes
There are three types of lathes. The floor lathe is a heavy duty, industrial type machine. It is used for very large projects. While very stable, they do come with a higher price tag and require a great deal of room. These are not wood lathes that can be easily moved around, either.
A mini wood lathe is much smaller and a better choice for smaller woodturning shops. It can be moved rather easily, but is still a pretty stable and strong machine. A pen lathe is the smallest lathe available. These can easily be moved by one person and are perfect for those who need a bench top model. These are specialized lathes, perfect for a beginner or part time hobbyist. The swing range of these lathes is only two inches.
I and many others in the turning industry consider Jet Lathes to be the best and here you will find their range of lathes by following this link to
Jet Lathe There are individual Jet Lathes itemised on this page and for a limited time this Summer Reduced Prices at CPOJET who are main Jet distributors

Wood Lathe Tools
The most common tools are chisels, gouges, and knives. A gouge is a type of chisel that is best suited for cutting grooves or for making rough cuts. There are many different types of chisels, such as spear, parting, and skew. Each has its own specific use and will create a different cut or groove in the piece of wood stock.
How to Choose the Right Lathe
This can be a difficult choice. There are two main considerations: cost and application. You want one that will fit your budget, but that will also fit the type of projects you want to do. The best wood lathe is an investment. If you don't make the right purchase, you will probably end up buying another one in the not too far future.
You will want a lathe that is reliable and requires minimal maintenance. If you're buying a new model, ask lots of questions and do a bit of research. This can end up saving you a lot of problems later on. Find out about the warranty and where the nearest service center is. Obviously, a lathe can be quite expensive to ship should it need service.
A Final Thought
There are many types of wood lathes available, but the best wood lathe will depend upon your particular needs.
Have a strong grasp on what your budget is and what type of projects you want to complete with your lathe.
Jet Wood Lathe

Back to Wood Lathes Tips

Return to Woodworking from Best Wood Lathe