Beginning Woodworking Essentials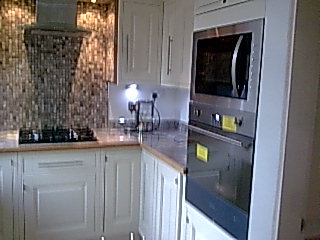 Although my son Paul wasn't beginning woodworking when he built the kitchen shown here, he had only 2 years experience working alongside me.
Before beginning a woodworking career or hobby, the first items to consider are safety and decent tools.
Start with safety first and buy a pair of steel toed, either workboots, shoes or trainers.
I completed a contract around 10 years ago, alterations to a Post Office and new car park.
I removed my work boots ready for home, put on a pair of casuals and locked up. I then noticed I had left a sheet of plywood on the new tarmac, lifted it, but it slipped out of my hands and smashed my big toe to smithereens.
Fore-armed is fore-toed. Don't dice with your safety.
Minimal Tools for Beginning Woodworking
Beg, borrow, loan, hire or buy the basic tools required to commence your new hobby or occupation.
I have provided 'underlined' links to specific tools I recommend and have used over the last 40odd years which are more often than not less expensive when buying via the Internet. Frequently too, you will find reduced prices or used items for bigger savings.
I would certainly buy a new substantial
tape measure
. By that I mean that when the tape is extended to 4 or 5 feet it doesn't buckle. 5m covers the length of most jobs you are likely to consider and is the size I use daily, I find the 25m tapes too bulky for everyday use.
Most homes have a pencil which you can utilise but when next in the supermarket or newsagents, pick up a 2B penci, it is sufficiently hard to prevent repeated sharpening. Get used to placing your pencil in the flap of your ear so that you always know where it is, in your pouch if you wear glasses as I now have to.
Also buy new tools that can go blunt, like a stanley knife, Irwin saw 20" or 22" medium cut, 1/2" chisel for starters, although I would buy a set of Marple chisels if you want to begin with quality and a sturdy smoothing plane , Stanley are as good as you will get. The reason I recommend new for those items is so that they don't need sharpening before you can use them.
I would also buy a new claw hammer, the best by far in my opinion is an estwing which is forged completely in steel.
Choose the nylon grip type rather than the leather tongue grip which loosened on my first one, which was actually second hand when I bought it. You will use this tool more than any other and the Estwing will last a lifetime. They are ridiculously inexpensive at the moment (18/5/2013)
A 16oz hammer is fine for general household carpentry but for heavier work such as framing, 22-26oz have the suitable weight.
Other essential tools for beginning woodworking are a Stanley Hand Tools 46-012 12 inch Professional Combination Square
, cordless drill of which Bosch cordless drills
are one of the best money can buy and a few drill bits and Spirit levels
of the length appropriate to the work you will be doing, I use a 4' for most jobs.
Wood..Small pieces will suffice to get you up and running, after all you will need to put in a little practice before you start to build the empire state. Ask around for any off cuts or discarded pieces from neighbours, friends and family.
Space
Make sure you have a designated area to work. The garage or garden shed, even outdoors if the weather is good, but you don't want to be a fair weather enthusiast, it will curb your enthusiasm when it rains.
Should you not have a bench to work off, improvise. Dining chairs, so long as you cover them will do fine short term. I used ours once, she wouldn't allow me a second time, but they are ideal for cutting against.
Practice Makes Perfect
At least we try to make it perfect, but don't get
fed up
if the first object you make isn't perfect. Remember Chippendale started the same way and Leonardo's arms kept falling off.
Beginning woodworking involves practice so begin by learning to cut straight. Use your saw to mark the lines if you haven't acquired a miter square. There is usually a 90 degree angle on hard point panel saws. Cut till your arm aches or at least until the majority of cuts are straight. Then bundle up the off cuts and take them back to the unwilling donors. Don't forget to thank them !
Learn how to knock a nail straight without bending it, let me know how many out of a hundred you bent.
Final Thoughts

Look the part and you will feel the part, I don't mean to don your Sunday best.
Wear the appropriate gear, overalls or clean but worn jeans and a checked shirt, if there are any left.
Make a pouch or better still buy one. I recommend the exact same as mine which is a Klein Tools 42242 One-Piece Nail/Screw and Tool-Pouch Apron

I bought this one because 2 large pockets are ample and because it's divided it doesn't restrict leg movement
Equip the pouch with your pencil, tape measure, nails you are going to bend and sling your hammer into the holster/cradle on your pouch.
Oh yes.. that is a must.
When you are beginning woodworking, get into the habit of keeping the work area tidy and keep your tools in specific places and always remember 'Practice Makes Perfect' ! Remember too that I am here if you need advice, whatever it may be.


From Beginning Woodworking Return to Woodworking Tips

Back to Woodworking